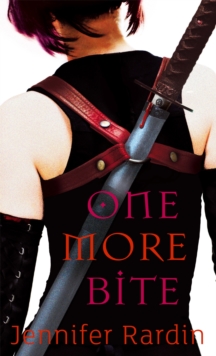 One More Bite : Book five in the Jaz Parks sequence
Paperback
Part of the Jaz Parks series
Description
I've already smoked the guy who was the pain in the CIA's you-know-what for the past few years.
But now, in the power vacuum left by the death of Edward 'The Raptor' Samos, a struggle for supremacy has begun between his former allies.The CIA feels the balance must be maintained.
So when a Valencian Were agent discovers a plot to assassinate the Coven of Inverness' leader, me and my vampire hottie (and boss), are drafted in.
Our mission - to take out the woman hired to do the deed, a killer who might be as wily and Gifted as ourselves.So it's off to the Scottish Highlands for some twisted fun among murderers, demons and half-crazed relatives.
Sometimes being a top-secret CIA assassin isn't all it's cracked up to be.
Information
Format: Paperback
Pages: 336 pages
Publisher: Little, Brown Book Group
Publication Date: 01/01/2009
Category: Fantasy
ISBN: 9781841497099
Free Home Delivery
on all orders
Pick up orders
from local bookshops
Reviews
Showing 1 - 3 of 3 reviews.
Review by redheadheroines
16/06/2015
I abandoned this book after 150 pages. I read all of the Jaz Parks books up until this one and I finally couldn't stomach Rardin's inexperienced narration, especially in relation to explaining complex details, outlining a series of events and filling the reader in on an ongoing plot when the novel begins. I stuck it out with the preceeding novels in the series because I really like the characters and the romance between Jaz and Vayl. Too bad that relationship never amounted to anything! It is clear that Rardin is simply stringing the reader along with the hopes of another breathtaking paranormal-romance relationship so that suckers like me will read five books instead of one. Psht!
Review by JenJ.
16/06/2015
I've liked this best of the series so far. Rardin continues to improve her writing and plots. Seems like maybe we've finally resolved the love triangle thing which will be a relief. It was also nice to learn a little more about Jaz's past and her mother.
Review by Cynical_Ames
16/06/2015
Don't get me wrong I LOVED the story, the humour, the growing relationship between Jaz and Vayl, Cole's eventual acceptance that he can't have Jaz but there was one thing that left me a bit flumoxed. Jaz's dad Albert, he never discovers that Vayl is a vampire. He overhears that Vayl's a vampire a few times, he even sees the evidence for himself, Jaz hints at it as well but he never realises it. I kept waiting for the lightbulb to go on inside his head and for him to make a big thing over the fact that Vayl is undead. It never happens and I'm a bit disappointed about it. <br/><br/>I also really missed Bergman as did Jaz but that was deliberate, bloody politicians trying to strip Jaz of her allies making it less likely for her to survive her mission but hopefully we'll see him in the next book. I really liked seeing more of Jaz's parents, why her mother deserves to be in hell and Albert finding out why Jaz hates her so much. All in all, a very entertaining read. I'm looking forward to seeing what Vayl's solution is to the political problem in the next book, BITE MARKS which may get both him and Jaz either fired or dead.