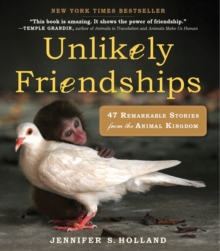 Unlikely Friendships : 47 Remarkable Stories from the Animal Kingdom
Paperback
Description
It is exactly like "Isaiah" 11:6: "The wolf also shall dwell with the lamb, and the leopard shall lie down with the kid..." Written by "National Geographic" magazine writer Jennifer Holland, "Unlikely Friendships" documents one heart warming tale after another of animals who, with nothing else in common, bond in the most unexpected ways.
A cat and a bird. A mare and a fawn. An elephant and a sheep. A snake and a hamster. It includes the well-documented stories of Koko the gorilla and All Ball the kitten; and the hippo Owen and the tortoise Mzee. And almost inexplicable stories of predators befriending prey - an Indian leopard slips into a village every night to sleep with a calf.
A lionness mothers a baby oryx. Ms. Holland narrates the details and arc of each story, and also offers insights into why - how the young leopard, probably motherless, sought maternal comfort with the calf, and how a baby oryx inspired the same mothering instinct in the lionness. Or, in the story of Kizzy, a nervous retired Greyhound, and Murphy, a red tabby, how cats and dogs actually understand each other's body language. With Murphy's friendship and support, Kizzy recovered from life as a racing dog and became a confident, loyal family pet.
These are the most amazing friendships between species, collected from around the world and documented in a selection of full-colour candid photographs.
Information
Format: Paperback
Pages: 224 pages
Publisher: Workman Publishing
Publication Date: 30/06/2011
Category: Zoology & animal sciences
ISBN: 9780761159131
Free Home Delivery
on all orders
Pick up orders
from local bookshops
Reviews
Showing 1 - 5 of 15 reviews.
Previous | Next
Review by Bookish59
16/06/2015
Whether it's maternal instinct, need for warmth, bonding or love, the animals featured in Unlikely Friendships have displayed an emotional intelligence that is difficult to fathom making it more wondrous and stunning. Holland is a good storyteller but I do wish some of the stories were longer. Go ahead and enjoy!
Review by Citizenjoyce
16/06/2015
Jennifer Holland's introduction is well written and informative. She discusses the debate about animal emotions and cites Marc Bekoff on Darwin's idea that <i>Evolutionary continuity... stresses that there are differences in degrees rather than in kind between humans and other animals. That applies to emotions. We share many bodily systems, including the limbic system, where emotions are rooted. So if we have joy or sorrow, they have it too. It isn't the same joy or the same sorrow. But the differences are shades of gray, not black versus while.</i> Regarding friendship, Holland defines it as <i>seeking comfort or companionship from another to improve one's own life experience...Even if friendship is had only briefly, it is a plus. And in all of the cases..the animals are arguably better off--more confident, physically stronger, in higher spirits--after finding each other than they were before.</i>The book shows great photographs of relationships between animals, both wild and tame, both male and female, some as short as a few hours, some lasting a life time. The pictures themselves are inspirational, the prose that accompanies them is less so.
Review by KarenBall
16/06/2015
Excellent nonfiction for animal lovers! Each of these short chapters is a separate story of animals who found each other and developed a bond. Some of the animal pairs only spent a short time together, and others have spent years together. For some, there are reasonable biological explanations for the behavior: one animal has lost its baby, and chooses another to foster and adopt, two animals bond over a common need, or an orphaned animal seeks out another to be its parent or protector. But some stories are just mysterious -- at the Berlin zoo, Muschi the cat and Mausschen the black bear have been inseparable for a decade, and in Mombasa, Kenya, an orphaned hippo and a 130-year-old tortoise (Owen and Mzee) have developed a sort of communication and traded behaviors and eating habits. Narrated by the author, there are plenty of photographs and side graphics containing information about the different species in the stories. 6th grade and up.
Review by dk_phoenix
16/06/2015
Anyone who loves animal stories, animal photography, and being awed by animal behavior will love, love, love this book. Some of the stories have sad moments, but all are hopeful. Others are beyond incredible. It's unconscionable that scientists might still suggest animals can't make emotional bonds or don't have emotions -- there's more than enough in these stories to melt the heart of even the most stoic nonbeliever. Amazing, remarkable, and utterly beautiful. I borrowed this book from the library, but I will definitely be purchasing my own copy.
Review by Whisper1
16/06/2015
What a delightful read. This is a lovely book filled with stories and beautiful images of out-of the ordinary bonds formed by species that normally do not relate.It gives me hope for humankind that perhaps, just perhaps one day we can do the same: