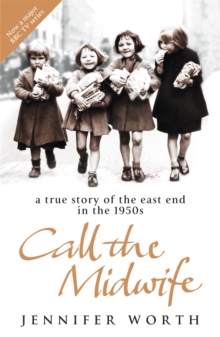 Call The Midwife : A True Story Of The East End In The 1950s
Paperback
Description
A fascinating slice of social history - Jennifer Worth's tales of being a midwife in 1950s London, now a major BBC TV series.Jennifer Worth came from a sheltered background when she became a midwife in the Docklands in the 1950s.
The conditions in which many women gave birth just half a century ago were horrifying, not only because of their grimly impoverished surroundings, but also because of what they were expected to endure.
But while Jennifer witnessed brutality and tragedy, she also met with amazing kindness and understanding, tempered by a great deal of Cockney humour.
She also earned the confidences of some whose lives were truly stranger, more poignant and more terrifying than could ever be recounted in fiction.
Attached to an order of nuns who had been working in the slums since the 1870s, Jennifer tells the story not only of the women she treated, but also of the community of nuns (including one who was accused of stealing jewels from Hatton Garden) and the camaraderie of the midwives with whom she trained.
Funny, disturbing and incredibly moving, Jennifer's stories bring to life the colourful world of the East End in the 1950s.
Information
Format: Paperback
Pages: 368 pages, 8 Illustrations, unspecified
Publisher: Orion Publishing Co
Publication Date: 06/03/2008
Category: Memoirs
ISBN: 9780753823835
Free Home Delivery
on all orders
Pick up orders
from local bookshops
Reviews
Showing 1 - 5 of 7 reviews.
Previous | Next
Review by eesti23
16/06/2015
An enjoyable read about life in London's docklands in the 1950s as a midwife. Some of it was in bits and pieces and I would have loved to seen more photos but overall pretty good.
Review by welshy72
16/06/2015
This book charts some of the career of Jennifer Worth, a midwife in the 1950's. She worked in the East End of London, in the slums at a time when all the tenements were being (or were supposed to be) shut down by the government as being to dangerous to live in. As I had a homebirth earlier this year it was interesting the changes that had taken place over the years. All the stories were interesting, they all weren't about midwifery but some general nursing stories as well. A fab book.
Review by timswings
16/06/2015
While reading it, I felt it as a sort of a testament of youth. Worth describes her admiration of the professional worth of the nuns in midwifery. She starts her training with them in 1953, when she is 22. As assistent to a trained widwife, she assists at the births at home. She describes the community of the London Docklands. With the men working in the docks and the women at home raising large families in very bad housing conditions. In the way they coped, you can call it every day heroism. It is a personal story, and as such not the work of an historian. But you can get a good idea about the living conditions in this area in this period so short after the war.
Review by DubaiReader
16/06/2015
Brilliant, fascinating and hugely readable.Non fiction is often a slower read than fiction. This book was surely an exception - every time I picked it up I found I had whizzed through another 20 to 30 pages without even realising. It completely engrossed me with its stories of 1950s midwifery and the life of that time in the East End of London.Ms Worth was a young midwife, training under the nuns of Nonnatus House (pseudonym) and travelling around her area of London on a bicycle. Undeterred by rain, ice and even smog, she went to the assistance of the young mothers in one of the poorest suburbs. It was this insight into their living conditions and social interactions that made this book so fascinating.There are so many wonderful characters in the book - some stay with us throughout, such as the nuns and the other midwives, others are met in passing as we learn their harrowing or heartwarming stories. I don't think I shall ever forget Conchita and her 24 children. Without a word of English, she and her husband Len, who could not speak Spanish, raised a happy brood and were still very much in love. Her tiny premature baby (no 25), no bigger than the palm of her hand was nursed at home when she refused to let him go to hospital. And then there was Mary, a poor abused girl from Ireland who had hoped London would offer her a better life. Like many others, she found herself trapped in prostitution and then pregnant. Ms Worth met her wandering the streets of London and helped her where she could, but her story was not a happy one.This book is full of such stories, both happy and sad and expertly told.In the days before the pill families were much larger than today, yet the accomodation was smaller and poorer. The people seemed to have a gritty determination that is found more rarely now and managed to pull through all sorts of struggles.I'm sure I shall read this again at some point, but meanwhile there are three other similar books by Jennifer Worth which I can't wait to read.
Review by PennyAnne
16/06/2015
A fascinating insight into London's East End in the 1950's. Focused mainly on the practise of midwifery and obstetrics during this period the book also covers the social and economic issues at play in the East End at this time. Although the book concerns a period only 60 years ago I felt the author could be describing the Industrial Revolution or mediaeval England rather than relatively modern London. Falling down tenement buildings, shared toilets, 2 room flats for families with dozens of children etc etc - quite an eye opener!