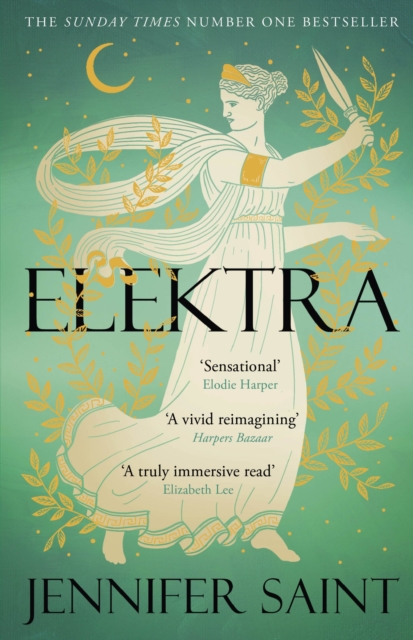 Elektra : The mesmerising story of Troy from the three women its heart
Paperback / softback
Description
**The spellbinding new retelling of the story of Troy drawn from the perspective of the fearless women at the heart of it all.**'The story and its characters swept me up and engulfed me, I could not put this one down' ⭐ ⭐ ⭐ ⭐ ⭐ REAL READER REVIEW'I was glued to it from beginning to end and could not wait to recommend to my friends afterwards.' ⭐ ⭐ ⭐ ⭐ ⭐ REAL READER REVIEW'Jennifer Saint has breathed new life into this myth and put her own stamp on it' ⭐ ⭐ ⭐ ⭐ ⭐ REAL READER REVIEW'A brilliant read' Women & Home | 'A spirited retelling' Times | 'Beautiful and absorbing' Fabulous | 'A vivid reimagining of Greek mythology' Harper's Bazaar | 'Jennifer Saint has done an incredible job' RedThe House of Atreus is cursed.
A bloodline tainted by a generational cycle of violence and vengeance.
This is the story of three women, their fates inextricably tied to this curse, and the fickle nature of men and gods. ClytemnestraThe sister of Helen, wife of Agamemnon - her hopes of averting the curse are dashed when her sister is taken to Troy by the feckless Paris.
Her husband raises a great army against them and determines to win, whatever the cost. CassandraPrincess of Troy, and cursed by Apollo to see the future but never to be believed when she speaks of it.
She is powerless in her knowledge that the city will fall. ElektraThe youngest daughter of Clytemnestra and Agamemnon, Elektra is horrified by the bloodletting of her kin.
But can she escape the curse, or is her own destiny also bound by violence?Praise for Jennifer Saint and ARIADNE:'A lyrical, insightful re-telling' Daily Mail'Relevant and revelatory' Stylist'Energetic and compelling' Times'An illuminating read' Woman & Home'A story that's impossible to forget' Culturefly
Information
Format:Paperback / softback
Pages:384 pages
Publisher:Headline Publishing Group
Publication Date:19/01/2023
Category:
ISBN:9781472273956
Information
Format:Paperback / softback
Pages:384 pages
Publisher:Headline Publishing Group
Publication Date:19/01/2023
Category:
ISBN:9781472273956