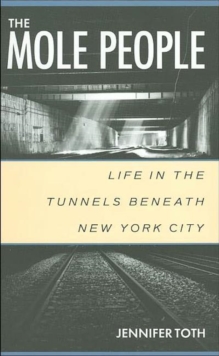 The Mole People : Life in the Tunnels Beneath New York City
Paperback
Information
Format: Paperback
Pages: 280 pages, Ill.
Publisher: Chicago Review Press
Publication Date: 01/01/1993
Category: Popular culture
ISBN: 9781556522413
Free Home Delivery
on all orders
Pick up orders
from local bookshops
Reviews
Showing 1 - 5 of 7 reviews.
Previous | Next
Review by laze
16/06/2015
Though the book is ten years old, it's an excellent look at the infamous "mole people," homeless that set up house underground, levels and levels under New York's subway. Even the most open-minded of us tend to look at these people as freaks, but Toth reminds us of the human element behind even the most hard-to-grasp story.Very well written, particularly for such a (at the time) young writer.
Review by SnoopingBunny
16/06/2015
Fascinating, chilling account of NYCs society of homeless that live in the abandoned subways and tunnels under the city. I had trouble sleeping after reading this book. It is truly one the reader will never forget.
Review by jaygheiser
16/06/2015
Fascinating book about the people who live underneath NYC in tunnels. Writing is a bit immature, but given that the author was only 23 at the time, this is acceptable.
Review by goldiebear
16/06/2015
I found this book fascinating! It was an easy read and well written. Who knew that many people were living "down there". I enjoyed reading about the different types of homeless in the city and how they group themselves. This book was more about homelessness in general in NYC than anything. It kind of jumped around a lot and some of the stories told I still have a hard time believeing. Though, I do believe Toth wrote what she was told. I am sure many of those stories were made up by the people she encountered rather than Toth herself. The most fascinating part of the book I think for me was the anatomy of the city and the underground. Learning about the different levels of the tunnels and subway is a bit mind boggleing.
Review by Kuiperdolin
16/06/2015
This book is exceptional because also it shows the real underbelly of the world and the soul of man it is really creepy also there are some who say it does not exist for real but they are missing the point because in the tunnels truth does not mean the same thing like when she meets the devil and also there are the men with webbed feet it is so scary and the whole towns under the eath with thousands of mole people and the piano in the forgotten station it is like also the guns that are hidden everywhere under the City because of the conspiracy it makes you think what if the day is close and the rats the rats
Also by Jennifer Toth