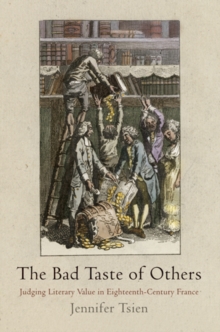 The Bad Taste of Others : Judging Literary Value in Eighteenth-Century France
Hardback
Description
An act of bad taste was more than a faux pas to French philosophers of the Enlightenment.
To Montesquieu, Voltaire, Diderot, and others, bad taste in the arts could be a sign of the decline of a civilization.
These intellectuals, faced with the potential chaos of an expanding literary market, created seals of disapproval in order to shape the literary and cultural heritage of France in their image.
In The Bad Taste of Others Jennifer Tsien examines the power of ridicule and exclusion to shape the period's aesthetics. Tsien reveals how the philosophes consecrated themselves as the protectors of true French culture modeled on the classical, the rational, and the orderly.
Their anxiety over the invasion of the Republic of Letters by hordes of hacks caused them to devise standards that justified the marginalization of worldy women, "barbarians," and plebeians.
While critics avoided strict definitions of good taste, they wielded the term "bad taste" against all popular works they wished to erase from the canon of French literature, including Renaissance poetry, biblical drama, the burlesque theater of the previous century, the essays of Montaigne, and genres associated with the so-called precieuses.
Tsien's study draws attention to long-disregarded works of salon culture, such as the enigmes, and offers a new perspective on the critical legacy of Voltaire.
The philosophes' open disdain for the undiscerning reading public challenges the belief that the rise of aesthetics went hand in hand with Enlightenment ideas of equality and relativism.
Information
Format: Hardback
Pages: 280 pages
Publisher: University of Pennsylvania Press
Publication Date: 22/09/2011
Category: Literary studies: c 1500 to c 1800
ISBN: 9780812243598
Free Home Delivery
on all orders
Pick up orders
from local bookshops