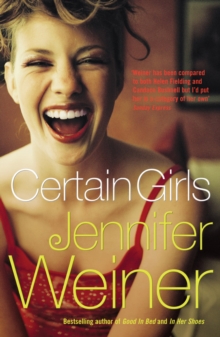 Description
It's been almost thirteen years since we last saw Cannie Shapiro, the heroine of Good in Bed, whose journey towards happy-ever-after made millions of women the world over laugh, cry and recognise themselves.
The last decade of Cannie's life has brought some surprises.
Her life story, in fictional form, became an unexpected bestseller, and Cannie has since retreated from fame's fallout, writing science-fiction under a pen name and praying that all her daughter inherited from her father, Cannie's ex-boyfriend Bruce Guberman, are her curls and her eye-colour, and not his predilection for smoking pot.
Meanwhile Cannie's best friend, Samantha, is looking for love in all the wrong places, and Cannie's husband, Peter, has decided that he'd like to have a baby, and the family's first choice for a surrogate is none other than Cannie's flamboyant kid sister ...
Information
Format: Paperback
Pages: 416 pages
Publisher: Simon & Schuster Ltd
Publication Date: 01/02/2009
ISBN: 9781847390219
Other Formats
EPUB from £4.99
eAudiobook MP3 from £15.08
Paperback from £9.89
Free Home Delivery
on all orders
Pick up orders
from local bookshops
Reviews
Showing 1 - 2 of 2 reviews.
Review by Periodista
16/06/2015
Maybe I'm not cut out for chick lit. Or Weiner was on auto-pilot. Probably a mistake to return to old characters.I knew this was what I call an airport book, what others call a beach book (but beaches are for hard books!). That's when I read them--when I know I'll be killing time. But flipping through this I realized it wouldn't last long enough. While better written than that Hollywood Wives writer, I read it in the same way: Will Cannie and cookie-cutter perfect husband get a surrogate child? Will the bratty teenager--oh, who cares? The chapters are told in alternate voices: the mother's, then the kid's. It's not working when the reader skips a chapter or three to keep with the mother narrator. The kid isn't convincing. I don't have much sympathy for a 12-year-old that wants a $300 dress that will only be worn for a single event or for their parents that ultimately shrug and buy it.Weiner's grammar, punctuation and writing are fine. Often they're pretty bad in chick lit books, or what I think is chick lit. I have read one of Weiner's previous books. In comparison, this one seems lazy: stereotypes in lieu of description. The return of Weiner's/Cannie's fugitive father--ouch. Cameo appearance by movie star friend who doesn't get a line or a character.Perhaps this book wasn't chick lit because there wasn't a romance? I don't think the Samantha friend counted because she was like a male author's caricature of a 40-something single woman. This is the kind of woman more likely to hire a surrogate or visit a sperm bank.I think, tho, if you're a well-maintained lawyer of that age, it's really not so difficult to find male compansionship. Women like that often have much younger partners. Don't men vastly outnumber women on these dating sites, just as in the heyday of newspaper personal ads? Marriage, yes, may be more difficult. I also found it dubious that a beautiful lawyer just looking for a date to a wedding to would be sticking to a Jewish singles dating site. And the bratty kid doesn't have any non-Jewish schoolmates or friends? But I digress.So (spoiler alert!) with no warning (well, I'm not going to flip back), the adoring diet doctor husband (who doesn't have a problem with 2 quarts of ice cream in the fridge, though his wife is fat) drops dead in one of the final chapters. Readers seem upset by this but I think the reasoning is obvious: we're going to see another sequel with Cannie character as single middle-aged mother seeking love while (one hopes) her bratty kid is off at college.
Review by Marlene-NL
16/06/2015
As I mentioned in my comments while reading this book was a big disappointment to me. While in the other book there was an upbeat feeling going on and the book was funny, (Good in Bed) this book was the opposite. I've been thinking why I did not like this book, Well like for instance with Shopaholic where the main character keeps on spending her money and appears she does not learn until maybe at the end of the book, it is the same thing with this book. I guess I just don't like books where I am constantly annoyed. where the main characters just keep on doing stupid things you just want to toss the book away.<br/>That was what happened with Certain Girls.