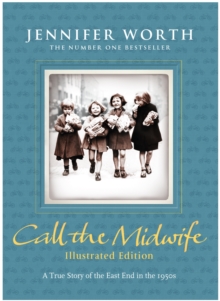 Call the Midwife
Hardback
Description
This is a large beautifully illustrated edition of CALL THE MIDWIFE with never-before-seen photographs which bring the real London and real lives to life.
Pictures of the docklands, photos of how life was lived at the time, the families, housing, health service, food and of course the nuns and the midwives who brought so many babies into the world will be a beautiful addition to Jennifer Worth's bestselling memoir.
Information
Format: Hardback
Pages: 400 pages, ill
Publisher: Orion Publishing Co
Publication Date: 01/09/2012
Category: Memoirs
ISBN: 9780297868781
Free Home Delivery
on all orders
Pick up orders
from local bookshops
Reviews
Showing 1 - 3 of 3 reviews.
Review by labwriter
16/06/2015
Oh how I had to struggle to finish this book. I somehow had the idea that it would be like James Herriot's books, as in All Creatures Great and Small. Not Even A Little. Angela's Ashes? Oh ha, not close. Overall, it was a grim read without much redemption.There were parts of the book that I found engaging, probably because of my own work as an RN in labor & delivery. Then there was my favorite character, Chummy, who unfortunately appeared in only one chapter. However, there were some real spoiler chapters in the book, particularly where Worth chose to write (three chapters!) about a prostitute she had met on her rounds. If her book had been about prostitution, I suppose she would have been justified; however, I felt blindsided after reading those chapters and wished that I had skipped them. I also could have done without about 90% of the bathroom "humor" that was written into this thing.Probably the most interesting part of the book was the community of the London Docklands as they existed in the 1950s. Worth's book left me wishing she had been able to incorporate more about the area into the book. I imagine a book like London's Docklands by Fiona Rule would cover the subject better. I think my basic problem with the book could be summed up pretty simply: Worth isn't much of a storyteller. This book seems like a real missed opportunity.
Review by winterlillies
16/06/2015
Call the Midwife first came to my attention when I heard PBS was going to air the BBC series. I wasn't sure if I'd be interested in a show about midwives in the 1950's and close friends kept raving about it. I didn't get around to watching the adaptation until New Year's Eve and was quite surprised at how much I fell in love with the show. Shortly afterwards I borrowed the book from my local library branch.Jennifer Worth is an engaging storyteller. She decided to write about her experiences in response to an article in the Royal College of Midwives Journal by Terri Coates regarding the underrepresentation of midwives in literature. Coates urged, "a midwife somewhere to do for midwifery what James Herriot did for vets." Worth took up the challenge and eventually sent her first volume to Coates to read. She writes, "Whoever heard of a midwife as a literary heroine? Yet midwifery is the very stuff of drama. Every child is conceived either in love or lust, is born in pain, followed by joy or sometimes remorse. A midwife is in the thick of it, she sees it all. Why then does she remain a shadowy figure, hidden behind the delivery room door?"Some do question how much of Worth's memoir can be accepted as truth. There are several reasons for this. It's important to note that Worth did change names and perhaps she did it to protect her patients and her friends (although she keeps her real name and uses her maiden name: Jenny Lee). Nonnatus House is where she works as a district nurse and midwife is a pseudonym for the Sisters of St John the Divine in Whitechapel (Worth's setting is in Poplar in the East End of London). Questions also arise regarding the identity of a midwife and if she actually existed. Worth describes Camilla "Chummy" Cholomondley-Browne as "Six foot two inches tall, with shoulders like a front-row forward and size eleven feet, her parents had spent a fortune trying to make her more feminine, but to no effect." She said her first impression of her was a "bloke in drag." Worth's daughters, however; insist they once saw a photograph of the midwives taken during their mother's tenure and a woman seen in the photograph fits Chummy's description, but no Sister of St John's can recall a midwife with her description or name. Furthermore, no one knows who has this photograph because it has disappeared. Then there's the story of Sister Evangelina who Worth describes as a nurse who parachuted into German territory during the First World War. Critics are quick to point out the story regarding Sister Evangelina is invented. I wouldn't necessarily discount what Worth writes as untrue. By World War II parachute schools were being established and I believe France was the first to create a woman's airborne unit. Perhaps Worth heard about this and by the time she wrote her memoir it was part of her memory as having happened.For the women who have had children, I salute you. Reading Call the Midwife certainly put things into perspective and her descriptions of living situations in 1950's East End London sure make you appreciate our present day living. Worth describes in rich detail, midwives getting a call in the middle night and having to use a bicycle to attend patients. Imagine having to travel up 12 miles per a day carrying a bulky (and no doubt heavy) medical box and traveling everywhere via your bike. It's interesting to see how much the medical field has changed these past 60 years. Worth mentions how much changed with the introduction of the pill, "Women could, for the first time in history, be like men, and enjoy sex for its own sake. In the late 1950s we had eighty to a hundred deliveries a month on our books. In 1963 the number had dropped to four or five a month. Now that is some social change!" I reread this section a few times and had to contemplate for a moment. I wonder what the Sisters thought of the pill? How was it viewed among the poor in the East End? As a woman living in the 21st century we take a lot for granted. As Worth explains, "In the nineteenth century (and earlier, of course) no poor woman could afford to pay the fee required by a doctor for the delivery of her baby. So she was forced to rely on the services of an untrained, self-taught midwife, or "handywoman" as they were often called. Some may have been quite effective practitioners, but others boasted a frightening mortality rate. In the mid-nineteenth century, maternal mortality amongst the poorest classes stood at around 35-40 per cent, and infant mortality was around 60 per cent. Anything like eclampsia, haemorrhage, or mal-presentation, would mean the inevitable death of the mother. Sometimes these these handywomen would abandon a patient to agony and death if any abnormality developed during labour. There is no doubt that their working practices were insanitary, to say the least, and thereby spread infection, disease and often death." It definitely makes one appreciate the steps taken to pass England's Midwives Act, which of course lead to the Royal College of Midwives being created.No medical knowledge is needed to fully appreciate Worth's book. She's very thorough and explains everything; clearly she made it her mission to pay attention to detail. Also she uses the Cockney dialect throughout the book to showcase how the people in the East End talked, but it's easy to read. There's a guide to the Cockney dialect and even goes into detail regarding the difficulty to put a dialect into print. Furthermore, there is a detailed glossary, which further explains the medical terminology used.If you're a fan of medical shows or are just interested in medical history, I highly recommend Call the Midwife. For everyone else, I do believe you'd enjoy reading this lovely memoir. If you're wondering how much is changed between the book and the series, I have to say not much. A lot of the patients she mentions feature prominently in the series, however; the book provides much more in-depth information. You'll be left wanting more and luckily there are three volumes to her memoir.
Review by BeckyGraham1016
27/08/2015
Would absolutely recommend this book - as long as you aren't squeamish about OB/GYN procedures and birth! Keeping in mind this is non-fiction, and the author is not a "writer" but rather an older woman sharing the amazing stories of her life - this is very enjoyable. My only issues were that the story jumps around a bit and doesn't really flow - but again, she isn't a "writer" by trade and so all is forgiven. Very interesting read - I loved the people she knew and helped, and I loved the way she compared life then, with life now to remind us how very much living standards and technology have changed since the 1950's.