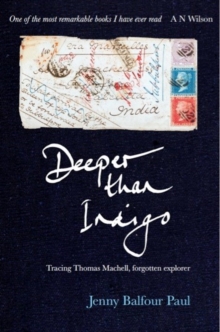 Deeper Than Indigo
Hardback
Description
This intriguing odyssey, set on the edges of time, encompasses biography, memoir, detective story, travelogue and history to tell a remarkable tale of East-West connections and a mysterious love.
The author's quest begins when the word 'indigo' draws her to the illustrated journals, now in the British Library, of Victorian traveller Thomas Machell.
She finds her life to have striking echoes of his, not least travels to and within India, a career in indigo, and a passion for journal writing. She is also intrigued by his aspiration to write 'a novel in the form of an autobiography' and by his quirky watercolour sketches.
Retracing his footsteps - overland and by sea - from his ancestral home in the hills and dales of northern England to remote parts of the Middle East and Asia, she is often in her own footsteps too.
Machell of Crackenthorpe, born in 1824, first demonstrated his yearning for adventure when only twelve, and at sixteen left the family rectory to fulfil his childhood dream of travelling to the East.By chance, he witnessed many important historical events, including the infamous First Opium War and the Indian Mutiny that profoundly affected British-Indian relationships. Machell spent most of his adult life in India, 'the land of my destiny' as he calls it; the author tracks him to the indigo and coffee plantations of rural Bengal and Kerala's Malabar Hills, to little known regions of central India; to the China Seas and remote islands of Polynesia and through the deserts of Arabia.
This spellbinding book brings to life Machell's untold story, that of a spirited outsider at the time of the British Raj reaching into the future.
Serendipity, intuition and an enchanting relationship, as well as the author's quest to uncover the missing years of Machell's life, give this book its magical extra dimension.
Information
Format: Hardback
Pages: 352 pages
Publisher: Medina Publishing Ltd
Publication Date: 03/06/2015
ISBN: 9781909339538
Other Formats
Paperback / softback from £8.95
Free Home Delivery
on all orders
Pick up orders
from local bookshops