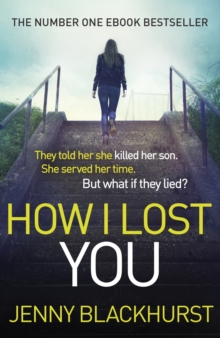 How I Lost You : The Number 1 eBook Bestseller
Paperback
Description
Jenny Blackhurst's debut psychological thriller and #1 Kindle bestseller HOW I LOST YOU was described by Clare Mackintosh as 'utterly gripping'.
If you love Louise Jensen's THE SISTER or Tracy Buchanan's NO TURNING BACK you will love this.
My name is Emma Cartwright. Three years ago I was Susan Webster, and I murdered my twelve-week-old son Dylan.
I have no memory of what happened but you believe what your loved ones, your doctor and the police are telling you, don't you?But if you can't remember what happened, how can you be sure that they are telling the truth? And if there was the smallest chance your son was alive, wouldn't you do anything to get him back?If there was the smallest chance your son was alive, what would you do to get him back?A fantastic debut from an outstanding talent.
Information
Format: Paperback
Pages: 368 pages
Publisher: Headline Publishing Group
Publication Date: 23/04/2015
Category: Crime & mystery
ISBN: 9781472218964
Free Home Delivery
on all orders
Pick up orders
from local bookshops
Reviews
Showing 1 - 2 of 2 reviews.
Review by nicx27
16/06/2015
After serving time in a psychiatric unit for the manslaughter of her son, Dylan, Susan Webster is now out and has a new identity. So who puts through her letterbox a photo of a four year old boy, implying that it's the child she killed at three months old? Susan, with the help of a couple of friends, decides she needs to find out what really happened four years ago.This is a real page turner with short chapters that made me think "just one more". I was pretty gripped by it, although I do think the storyline was maybe a little far-fetched but it didn't matter because I was still wanting to find out what was going to happen. At no time did I suspect what had really happened so the story all unfolded quite well and was well-plotted enabling it to come to a good final conclusion. A good crime thriller.
Review by atticusfinch1048
27/08/2015
How I Lost You – Beautifully Twisted ThrillerHow I Lost You is the absolutly stunning debut thriller from Jenny Blackhurst which draws you in from the beginning, grabs you by the throat and leaves you in tears at the end. This has to be one of the most beautiful twisted thrillers I have read in a long time where you are kept on your toes throughout the story and the twists and turns come when you least expect them which makes this such a brilliant example of the thriller genre. How Jenny Blackhurst can evoke the feelings of sympathy for a child killer is unbelievable but it works so well that by half way through you have to remind yourself of what she was convicted of in a court of law but it is about then you really are questioning that conviction. Jenny Blackhurst has crafted a stunning page turner of a debut novel that evokes all kinds of inner turmoil and the age old question will right win over wrong.Emma Cartwright used to be known as Susan Webster mother of Dylan and wife to Mark until she was convicted of his murder due to post-natal depression, she is now free and living alone in Ludlow Shropshire, her only friend Cass, a murderer, her visitor and friend. She receives a picture of her dead son that suggests that the child is still alive. The confusion and loneliness could send Susan in to all kinds of downward spirals, especially when her house is broken in to and a cat killed on her bed, or her door showered in red paint. So begins her slow journey with Cass in to finding out what really is the truth. Throughout her enquiries she has to question whether what she has been told is really the truth and at the same time she seems to be the victim of someone's vendetta against her. That vendetta is there to keep questioning her own sanity the one thing she knows she is fragile and someone is out to stop her finding the truth. Throughout the book you think you may just have the answer when there is yet another subtle twist that keeps reminding you not to jump to conclusions. At times you think your own sanity is being tested as you follow Emma/Susan's journey and feel the highs and lows and even question the trail of evidence that has been presented to you.This is a clever and brilliant debut by Jenny Blackhurst, How I Lost You, is a thriller that could easily become a classic of the genre. Read, enjoy and be amazed at this beautifully twisted crime thriller.
Also by Jenny Blackhurst