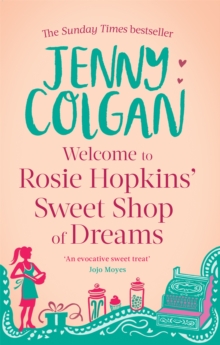 Welcome to Rosie Hopkins' Sweetshop of Dreams
Paperback
Description
Were you a sherbet lemon or chocolate lime fan? Penny chews or hard boiled sweeties (you do get more for your money that way)?
The jangle of your pocket money . . . the rustle of the pink and green striped paper bag . . . Rosie Hopkins thinks leaving her busy London life, and her boyfriend Gerard, to sort out her elderly Aunt Lilian's sweetshop in a small country village is going to be dull.
Boy, is she wrong. Lilian Hopkins has spent her life running Lipton's sweetshop, through wartime and family feuds.
As she struggles with the idea that it might finally be time to settle up, she also wrestles with the secret history hidden behind the jars of beautifully coloured sweets.Welcome to Rosie Hopkins' Sweetshop of Dreams - a novel - with recipes.*Winner of the RNA Romantic Novel of the Year Award 2013*
Information
Format: Paperback
Pages: 496 pages
Publisher: Little, Brown Book Group
Publication Date: 01/03/2012
ISBN: 9780751544541
Free Home Delivery
on all orders
Pick up orders
from local bookshops
Reviews
Showing 1 - 5 of 5 reviews.
Review by nicx27
16/06/2015
I love how Jenny Colgan is now writing about cakes and sweets and chocolate. Very in at the moment and right up my street. This book is about Rosie, who has to go and look after her great aunt Lilian and get her old sweetshop ready for sale. Lilian is getting on and really needs to go into a home. Inevitably, Rosie finds herself growing fond of Lilian and revitalising the shop, which became too much for Lilian to manage some years earlier, although nobody realised.This book taps into everybody's childhood memories of sweetshops, although I don't think there was nearly enough about sweets and the shop in it. It's a lovely read, a bit cliched and I did know what was going to happen, but it's light, frothy, fun and a very pleasant way to spend my time.
Review by TheGoldenPen
16/06/2015
Auxiliary Nurse Rosemary Hopkins is asked to give up her London apartment which she shares with her partner, Gerard, to care for her aging great-aunt, Lillian. Lillian Hopkins lives in a quaint little town called Lipton where everyone knows each other's business. At first Rosie was adamant about moving into a strange town to take care of an old lady with a bad hip and try to sell the Sweetshop that her great aunt --a family run old-fashioned Sweetshop that Lillian and her father owned in the Town of Lipton. Then Rosie began to meet Lillian's neighbours and little by little she fell in love with the town and it's locals with all their childhood secrets, scandals and family feuds. Soon Rosemary discovered that her London life wasn't all that glamorous; her partner Gerard a Mamma's boy, and there was more to life outside of London than she thought. In Lipton Rosie discovered the true lesson of love; she discovers the real reason her great- aunt never married and in the end finds true love herself and her life's true calling. The book gives you a glimpse into Lillian Hopkins's past when she was a girl in the 1940's, the love she found and lost; and her life as the daughter of the Town's sweetshop owner. The book is very well-written, descriptive, and each chapter begins with a recipe or rhetoric about classic sweets. I enjoyed the book but I have to admit that I enjoyed the author's previous book better, Meet me at the Cupcake Cafe. I found parts of the book a bit like Meet me at the Cupcake Cafe--a bit familiar and predictable, but over-all a nice story. I expected more recipes for confectionary sweets as the author included in her previous book; but instead there were only two to three recipes in this book; the other chapters began with rhetoric on conventional confections. The characters come to life and it is hard not to identify with them. I cannot wait to read Colgan's new book, Christmas at the Cupcake Cafe.
Review by evaberry
16/06/2015
This could have been quite a charming story had it been well written. As it was it came across as something of a schoolgirl effort. (I've never really read chick-lit so I don't have much of a frame of reference.) The elements were there for a good book, though and it was certainly a pleasant enough way to pass the time.
Review by wyvernfriend
16/06/2015
Quite literally a sweet story of a woman who is broken out of her life-rut by her great-aunt.After her mother left her for greener pastures in Australia, Rosie has slipped into a life that has no sparkle. She has settled for a life that looked good when it started but it's starting to drain her. Working as an agency nurse when her mother asks her to go to her elderly spinster great-aunt and see what needs to be done with the shop she's run for years, her house, and herself. While there she finds that life in a small country town isn't always as bad as it sounds and that maybe, just maybe she needs to re-think her life.It's a light read, fairly fluffy, but I liked it, I liked the characters and could imagine how Rosie ended up how she was. I could also see how Lilian ended up in her own situation.
Review by littlebirdreads
16/06/2015
What a lovely read! Sweetshop of Dreams is a beautifully written story of a young woman finding herself. Rosie's life isn't bad, but it isn't good either. It is comfortable, and if we're being honest, boring. On the wrong side of 30, Rosie realizes that maybe this isn't quite where she pictured herself- with a busy job and a boring boyfriend who is more like a teenage boy than a man you'd want to marry. Then suddenly her mother calls her and tasks her to help out her old Great Aunt Lillian and her failing Sweetshop out in the English countryside. Rosie of course winds up going, and this family matter becomes exactly what she needs to wake up and see what life is really all about.<br/>A typical chick lit (and I say that in the fondest of ways) Rosie's Sweetshop of Dreams is another coming of age tale. The difference here is that the setting is unique and the writing is superb. The book is also sprinkled with excerpts from Lillian Hopkins's book - each chapter begins with a snippet from the characters book, and this adds the perfect amount of flair and interest to this novel to set it apart.<br/>Rosie and Lillian are both lovely characters. Rosie is a typically developed character, but it was Lillian that I truly loved. Her story was woven into the novel through flashbacks to her teenage years in addition to her current state - a grumpy old spinster. Lillian is rough around the edges but you see her sweetness shine through thanks to Colgan's ingenious writing style.<br/>The other cast of players are given just enough development to keep the reader interested, as well as remember who is who. To me, this is a sign of an excellent author, especially if I can keep a cast of characters organized in a 400 page book with lots going on.<br/>The story is fairly typical, but like I said earlier, the setting is what sets it apart from the rest in this category. The coming of age tale is often overdone, but Colgan uses a fresh place and a whimsical (yet believable) backdrop with the Sweetshop. She did well describing the sweets and the shop - I could fully envision them in my mind.. which is saying something considering I'm not a sweet tooth kind of girl. I also surprisingly found myself craving old school sweets while reading - she brought it all to life is such a compelling manner. The details that Colgan supplies when the Sweetshop (or the sweets) show up is done masterfully. Every little bit was described, but done so in a way that wasn't monotonous. All of those details really draw the reader in, making us feel comfortable and connected to this little town, Rosie &amp; Lillian, and the Hopkins's Sweetshop. I could easily imagine myself strolling through Lipton. This is one of the things that sets this book apart.<br/>Aside from great character development and a beautiful (but normal!) setting, the choices that Rosie makes and the drama that unfolds are interesting and engaging. Yes there is a man, yes there is love and tears, yes there is drama - but aren't all those things what makes a good romance fun?? Sweetshop of Dreams IS indeed fun. I laughed at Rosie (and with her) while she bumbled through this new and exciting upheaval in her life. I didn't cry, but I did get a bit choked up about some of the romantic details and the trials she was facing - because lets face it, most of us have been there. Bored but comfortable - only to be shook up and turned on to a new scary adventure. It is that, my friends, which makes Rosie Hopkins's Sweet of Dreams a good chick lit - it is relate-able without being tired. I found myself hoping for the best for both Rosie and Lillian... and because of that simple and pure fact, I couldn't put this book down. It was a steady paced novel that still managed to keep me guessing- and turning the page.<br/>I absolutely recommend this book. Jenny Colgan has many novels, so I would hope that if you've read her other material, you would run out and grab this. For those of you, like me, who have not yet read any Jenny Colgan, I encourage you to do so. It is a fresh and welcome twist to your typical chick lit that leaves the reader satisfied. I know I will be reading more of Jenny's work soon!
Also in the Rosie Hopkins series | View all