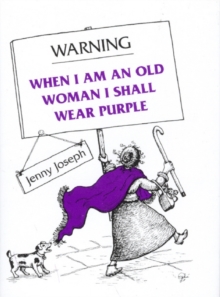 Warning : When I am an Old Woman I Shall Wear Purple
Hardback
Information
Format: Hardback
Pages: 32 pages
Publisher: Souvenir Press Ltd
Publication Date: 06/11/1997
Category: Poetry by individual poets
ISBN: 9780285634114
Free Home Delivery
on all orders
Pick up orders
from local bookshops
Reviews
Showing 1 - 3 of 3 reviews.
Review by shawjonathan
16/06/2015
This is a poem I've seen on feminist fridges for more than 30 years, and when I got it from BookMooch, I planned to give to someone as a gift, but by the time it arrived – by surface mail – I'd forgotten who the intended recipient was. So I gave it to the self-described poetry loather I live with.She read it, said it had more in it than she remembered, and read it aloud to me. Helped by the layout – one or occasionally two lines a page – she read it beautifully, slowly, thoughtfully. I believe Jenny Joseph has said she wishes she'd never written the bl*dy thing. Certainly she's famous for issuing take-down notices when fans put it up on their sites without permission. But it's a good poem.
Review by kwiens
16/06/2015
This poem is about just doing what you want when you become old enough that people will tell you no differently. I shall wear purple with a red hat which does not match, says to me that this particular woman does not care what society will think of her, but for now while you are still young you must abide.My grandmother and I read this Poem together while traveling, I bought her a Kentucky Derby reversable red and purple hat. She has become exactly this lady and I have to remind myself of this. A wonderful poem to understand that while you are young you must follow the rules, but when you become elderly you can decide if you care what society and others care. I would read this poem to a high school class emphasizing the importance of why when you are young that you must follow the rules. I believe that this could be beneficial due to defiance in young adult lives.
Review by PilgrimJess
16/06/2015
One of the things that I am looking forward to when I get older is being able to embarrass my children and not have them chastise me for it, rather shrug their shoulders and put it down my age. Just think I will not have to worry if I'm hip or trendy(not that I am now), whether or not my shirt matches my trousers, I'll even be able to shop in M & S,assuming the pension will stretch to it, without looking out of place.I won't have to be politically correct when out in public running anyone who happens to be in my way in my souped up mobility scooter no matter what their age,gender or colour. In fact I won't have to impress anyone and be able to regress to my childhood. In fact it will be even better because my own parents will not be about to tell me off. Well there has to be something to look forward to as body parts start to give up the ghost.This little book based on this lovely poem hints of things to come and should bring a smile to everyones lips no matter their age. Personally I would have liked to have seen another poem or two along the same lines and the illustrations were rather drab, on the plus side it is small enough to fit in a pocket and cheer up any drab commute. A little gem.