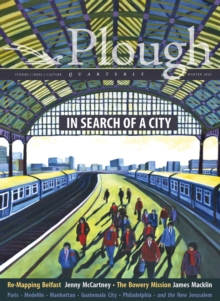 Plough Quarterly No. 23 - In Search of a City
Paperback / softback
Description
The future of humanity is urban. It might seem a bad move for a magazine named after a farm tool to bring out an issue on cities.
Especially if that magazine is published by an Anabaptist community that originated in a back-to-the-land movement and still has the whiff of hayfield and woodlot to it.
Why not stick to what you're good at? Why jump lanes?Because the future of humanity, pretty clearly, is urban.
Urbanization is arguably the biggest change of habitat our species has ever undergone.
For anyone who cares about the common good of humanity, then, cities need to matter. The modern city is an electrifying concentration of creativity, energy, and cultural dynamism.
It's also still the "cauldron of unholy loves" that Saint Augustine discovered in Carthage one and a half millennia ago.
It's the place where the cruelties of mammon, the hubris of power, and the perversions of lust manifest themselves most crassly.
But cities have also given birth to culture and community and to remarkable movements of revival and renewal. In this issue, visit:- Belfast with Jenny McCartney- New York City with James Macklin- Medellin with Adriano Cirino - Pittsburgh with Brandon McGinley- Guatemala City with Jose Corpas- Philadelphia with Clare Coffey- Chicago with John Thornton Jr. - Paris with Jason LandselYou'll also find:- Insights on cities from Jane Jacobs, Eberhard Arnold, Augustine, and Philip Britts- reviews of books by Jonathan Foiles, Bethany McKinney Fox, J.
Malcolm Garcia, Tatiana Schlossberg, Tim Gautreaux, Philip Bess, and Frederic Morton- art by Gail Brodholt, Michelangelo Buonarroti, Ben Ibebe, Brian Peterson, Chota, Raphael, Gertrude Hermes, Valentino Belloni, Tony Taj, and Aristarkh LentulovPlough Quarterly features stories, ideas, and culture for people eager to put their faith into action.
Each issue brings you in-depth articles, interviews, poetry, book reviews, and art to help you put Jesus' message into practice and find common cause with others.
Information
Format:Paperback / softback
Pages:96 pages, 67 Halftones, color; 67 Illustrations, color; 67 Halftones, black and white
Publisher:Plough Publishing House
Publication Date:17/12/2019
Category:
ISBN:9780874863390