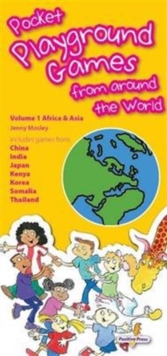 Pocket Playground Games from Around the World : 1
Paperback
Description
The traditions and traits of different cultures are often reflected through the games that children play. Although many childhood games are very similar, a different culture will often offer an alternative twist which adds to the fun! Pocket Playground Games from Around the World Volume 1 focuses on Africa and Asia, and includes games from China, Korea, Kenya, India and Russia (Russia spans Asia and Europe).
The games in these booklets not only encourage energetic exercise, promote valuable social skills and positive relations between the children themselves, they may also encourage children to find out more about the lives of children from other countries, and as schools often have a broad cultural mix themselves, this is an ideal opportunity to engage children in enjoyable activities together. Children with links to these countries often feel very proud that their games are included and you could encourage these children to ask their parents, grandparents and other relatives to teach them more games.The games are set out in a clear, accessible style with easy-to-follow instructions. Where possible we have included key words, rhymes or chants in the original country's language alongside the English to encourage children to try a different language if they feel like it. For those children with origins in the country concerned, they can feel a special pride in helping to teach the game to others.
We hope the games in this book will spark off children's cultural interest and curiosity about these countries and encourage them to see how games link us all together as "one world" through a universal language of fun.
Illustrations by Mark Cripps
Information
Format: Paperback
Pages: 36 pages, some black and white illustrations
Publisher: Positive Press Ltd
Publication Date: 13/01/2016
Category: Active outdoor pursuits
ISBN: 9781904866695
Free Home Delivery
on all orders
Pick up orders
from local bookshops
Also in the Jenny Mosley's Pocket Books series | View all