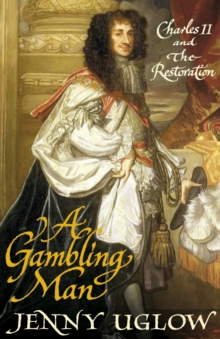 A Gambling Man : Charles II and The Restoration
Hardback
Description
Charles II was thirty when he crossed the Channel in fine May weather in 1660.
His Restoration was greeted with maypoles and bonfires, like spring after long years of Cromwell's rule.
But there was no going back, no way he could 'restore' the old.
Certainty had vanished. The divinity of kingship fled with his father's beheading. 'Honour' was now a word tossed around in duels. 'Providence' could no longer be trusted. As the country was rocked by plague, fire and war, people searched for new ideas by which to live.
Exactly ten years later Charles would stand again on the shore at Dover, laying the greatest bet of his life in a secret deal with his cousin, Louis XIV.
The Restoration decade was one of experiment: from the science of the Royal Society to the startling role of credit and risk, from the shocking licence of the court to the failed attempts at toleration of different beliefs.
Negotiating all these, Charles, the 'slippery sovereign', layed odds.
Yet while his grandeur, his court and his colourful sex life were on display, his true intentions lay hidden. "A Gambling Man" is a portrait of Charles II, exploring his elusive nature through the lens of these ten vital years - and a portrait of a vibrant, violent, pulsing world, in which the risks the king took forged the fate of the nation, on the brink of the modern world.
Information
Format: Hardback
Pages: 512 pages
Publisher: Faber & Faber
Publication Date: 01/10/2009
Category: Biography: royalty
ISBN: 9780571217335
Other Formats
Paperback from £10.25
EPUB from £7.19
Free Home Delivery
on all orders
Pick up orders
from local bookshops
Reviews
Showing 1 - 3 of 3 reviews.
Review by dsc73277
16/06/2015
At its most interesting when dealing with the plague and the Great Fire of London. I had previously been unaware of Charles II's very hands-on involvement in tackling the blaze.This book focuses on the decade after the Restoration in 1660. What came before and after these ten years is only lightly sketched, with the remainder of Charles II's reign being polished off rapidly in the last dozen pages. I found that this approach worked better at the beginning than it did at the end, but that is only minor quibble.
Review by pierthinker
16/06/2015
enny Uglow has produced an absorbing flowing narrative that covers the first decade of Charles II's reign following the Restoration. The book is themed around a card game and cleverly reflects both Charles' own love of gambling and the chances he took in re-establishing the monarchy and entrenching his own personal power. This theme also reflects the many chances Charles took with his own personal standing, both with the populace and with parliament, as he engaged in many affairs, including fathering several bastard children. Uglow has used many contemporary documents and writings to reveal the historical narrative and to expose the character of the king. As a man Charles comes across as very likeable. Of course he had to make difficult choices at times and he was clearly no saint, but his honest desire top be a 'good' king and to cement the monarchy back into the foundations of English culture shine through and allow us to, perhaps, forgive his misdemeanors and mistakes. His personal bravery in helping to tackle the Great Fire in 1666 was new to me. This is an engaging and engaged history focusing on a time of great risk for the monarchy that urges the reader to try just one more chapter before bed.
Review by Roseredlee
27/08/2015
Necessarily devious, clever and generally only too well aware of the vagaries of fortune, Charles survived the killing of his father, several thrilling narrow escapes himself, a young manhood spent in exile, and the eventual triumphant return to his native shore, whereupon he had to wheel and deal to stay in one place. All indications are, nevertheless, that he had a pretty good time doing this. Apart from the, for me, rather annoying central concept of the gambling man (Charles was far too canny to risk what he had), Jenny Uglow gives a perfect summation of his first ten years as King - and it is quite interesting to see the illustrations of various Restoration playing cards. Her description of Charles's homecoming is so good I read it twice, and she draws on a variety of well-researched sources, from the inevitable Pepys onwards, to give an evocative sense of the life of the time. One press reviewer complained about her nonchalant acceptance of the appalling way in which woman were objectified and treated but she isn't writing a feminist tract here and we can form our own opinions, her main interest is in explaining why she thinks Charles operated as he did. The machinations of the court, including the finally successful attempts to get rid of Clarendon, are brilliantly described, she explains the complexities and horrors of the wars and attempts at intricate settlements with Louis and the Dutch in exemplary fashion, and shows the increasing intellectual ferment of the time when exciting new thinking led to the creation of the Royal Society. Altogether, a triumph