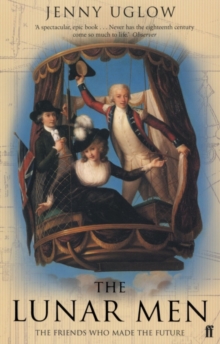 The Lunar Men : The Inventors of the Modern World 1730-1810
Paperback
Description
Led by the larger-than-life Erasmus Darwin, the Lunar Society of Birmingham were a group of eighteenth-century amateur experimenters who met monthly on the Monday night nearest to the full moon.
Echoing to the thud of pistons and the wheeze of snorting engines, Jenny Uglow's vivid and swarming group portrait brings to life the inventors, artisans and tycoons who shaped and fired the modern world.
Here's just a few of the many great reviews for The Lunar Men: 'An exhilarating book, filled with wonders ...Jenny Uglow is the most perfect historian imaginable.' Peter Ackroyd, The Times 'An irresistible book, rich as a Christmas pudding in its detail.
Uglow is the perfect guide, lucid, intelligent, sympathetic and wise.
A wonderful subject has found its perfect historian.' Spectator 'A constant delight ...Beautifully illustrated with many plates and diagrams, The Lunar Men lays bare the forces that prepared the way for the modern world.'John Carey, Sunday Times 'I loved them, every one, from the vagaries of Dr Erasmus Darwin, who listed boredom and credulity along with scabies as human afflictions, to Josiah Wedgwood's dismissal of a chic sculptor's rococo models as 'the head of a drowned puppy'.
Uglow, uniquely, can do things, thoughts and well-rounded people in the round.
Nobody else writes so perceptively about the power of friendship.
Great stuff.' Guardian
Information
Format: Paperback
Pages: 608 pages
Publisher: Faber & Faber
Publication Date: 04/09/2003
ISBN: 9780571216109
Free Home Delivery
on all orders
Pick up orders
from local bookshops
Reviews
Showing 1 - 4 of 4 reviews.
Review by lewallen
16/06/2015
This turned out to be quite an enjoyable book about a group of men who lived in the 1700s and contributed greatly to the advancement of science and the arts (back when they were more often the same thing) during the eighteenth century. The principles include Erasmus Darwin, grandfather of 'the' Charles Darwin; James Watt of steam engine fame; Josiah Wedgewood, a famous potter; and Matthew Boulton, a forward-thinking and influential, if ruthless, businessman. Well-researched and sympathetically written.
Review by isabelx
16/06/2015
Darwin's support of Beddoes and work on Zoonomia let him envisage the improvement of society through medicine, rather than politics. Most of his work was serious; some of it was fun, like his correspondence with Tom Wedgewood on making an air bed. ('He thinks feathers always stink', Darwin told Watt with amusement, 'and wishes to rest on clouds, like the Gods and Goddesses, which you see sprawling on ceilings.') The second half of the eighteenth century was a ferment of invention and the Lunar Society of Birmingham, a group whose members were mostly Midlands and Lowland Scots, was in the thick of it. Members included engineers, manufacturers, potters, chemists and doctors, but their scientific and entrepreneurial interests were varied and overlapping. They competed and collaborated, and urged each other onwards. They went into business together, their sons and daughters married each other, and their friendships were lifelong, excepting the relationship between William Withering and Erasmus Darwin, which was irreparably damaged by accusations of plagiarism. A well-written and engrossing tale, of pumping engines, porcelain and patent infringements, canals, caves and chemistry, mining, manufacturing and minting, botanical taxonomy and balloons.
Review by nielspeterqm
16/06/2015
James Watt was not alone on his steam engine. Entertaining & inspiring account of his collaboration with Boulton, Wedgwood, Erasmus Darwin, & the rest of an exclusive group of Enlightenment scientists & philosophers in the Birmingham area, known as the Lunar Society.
Review by the.ken.petersen
16/06/2015
I am in awe of this lady! I would find it difficult to write the biography of a single person: to take on that of a group, would appear madness!Not to Jenny Uglow, she takes it in her stride. She seems to effortlessly pass from one member to another and to keep the characters as separate personae. Whilst reading, I never once got confused as to whether a certain character was the one with a set trait, or another.The only people that I could admire as much, are her subjects - the Lunar Men. These are a group of eighteenth century men of science; Wedgwood, Boulton,Watt et al, who communicated regularly and met monthly (on the night of the full moon, so that there was light to find their way home!) At this early stage in science, the world was ruled by amateurs who could move effortlessly from chemistry to biology to physics. Their grasp of concepts which the lay man struggles with today, is truly awesome.This book is am eminently simple read but filled with information. I defy anyone to read this book and nit be entertained and enlightened.