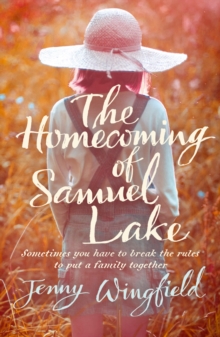 The Homecoming of Samuel Lake
Paperback
Description
A bewitching debut novel in the vein of the much-loved classic Fried Green Tomatoes at the Whistlestop Cafe.It's 1956 and Samuel Lake, a handsome preacher, is voted out of his ministry by yet another congregation, disappointed by his relentless pleas for them to live more charitable lives.
Out of options and out of pocket, Samuel and his family are forced to move in with their Arkansas in-laws, the rambunctious Moses clan.At first they thrive in the unruly sea of relatives - Willa, Samuel's wife, runs the bar for Grandma Calla, while the boys, Noble and Bienville, run riot through the surrounding countryside.
But when Swan, their formidable but loveable 11-year-old tomboy, crosses the path of neighbour Raz Ballenger, things take a turn for the worse.Raz Ballenger, horse trainer, is a man who rules both his family and his animals through terror.
Used to instant obedience, he is insulted when Swan leaps to his son's defence, an act that sets a whole chain of unexpected and terrible events into motion...
Information
Format: Paperback
Pages: 336 pages
Publisher: HarperCollins Publishers
Publication Date: 01/03/2012
ISBN: 9780007352579
Free Home Delivery
on all orders
Pick up orders
from local bookshops
Reviews
Showing 1 - 5 of 6 reviews.
Previous | Next
Review by sherylcalmes
16/06/2015
I love this book. It was a very touching and moving book. It was one of the better books that I have read lately. Loved the characters but also loathed the villan who eventually got what was coming to him. This is a story of good triumphing over evil and also the things we do to help our loved ones. Would recommend this book to anyone!
Review by busyreadin
16/06/2015
Very enjoyable story of the Lake family and there return to the town they were raised in. Along with the farm, the swimming hole and the store, there are also dangers in the woods, and Swan Lake, the main character of the story, is about to meet up with them.I've seen this character compared to Scout from To Kill A Mockingbird, and I think there is some truth in that. Would recommend it to most of my reading friends.
Review by em0451
16/06/2015
3.5 starsI have read so many glowing reviews of this book that I almost felt forced to love it. I did like it, but I didn't love it. I have been trying to pinpoint what it was about this book that kept me from loving it. I thought it was interesting. I found myself turning the pages to find out what would happen next.However, I also found myself wanting to skip pages to get to the good parts and to see what was going to happen next. There were a lot of different characters, and some of them I just didn't care to read about. The story wandered around from character to character, and the plot seemed to get lost in the middle of all that. From the title, it would appear that this novel is about Samuel Lake. And it is, kind of. But it also Swan's story. And Toy's story. And Blade's story. What exactly is the main story? Who is the main character? After reading it, I still have a hard time answering that question.
Review by motivatedmomma
16/06/2015
The Homecoming of Samuel Lake by debut author, Jenny Wingfield, was one of my favorite books of 2012! The story starts in the deep south of Arkansas in the 1950's, as the Moses clan gathers for its annual summer reunion in early June. A tragedy occurs and sets off a string of events that make it a summer to remember. There are so many memorable characters in this book: Samuel Lake, a preacher without a church, his wife, Willadee and their three precious children, their strong but silent uncle Toy, and their grandparents, Calla and John. The main protagonist is the Lake's daughter, Swan, an eleven year old, with more wisdom and heart than many of the grown-ups surrounding her. There is also the devil's incarnate in the form of Ras Ballenger, neighbor to the Moses family. All of these characters come to life in this southern gothic with such vivid clarity that it will take you a long time to forget them. This book has it all: faith, love, good vs. evil and redemption. The Homecoming of Samuel Lake had me in tears one minute and had me laughing out loud the next. Read this book; it is storytelling at its absolute best!
Review by Quiltinfun06
16/06/2015
Unfortunately, I seem to be one of a very few who didn't care for The Homecoming of Samuel Lake. I found it to be laborious and it didn't keep me interested. Samuel Lake is a Methodist minister who is married to Willadee Moses. They have 3 children; the oldest named Swan Lake. As they gather for their family reunion on the Moses farm tragedy occurs. Samuel, who has not been assigned a congregation of his own, ministers to his own. The characters are many and while some are more compelling than others; I wasn't drawn to anyone in particular. The author writes that the book drove itself. It appears it has without any editorial direction. Just not my cup of tea,