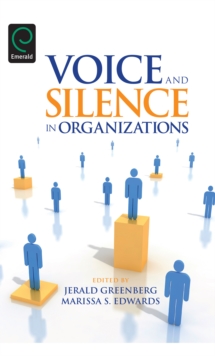 Voice and Silence in Organizations
Hardback
Description
Among the most fundamental decisions made by people in the workplace involves whether or not to express their ideas and concerns-or even if it is possible to do so.
Are employees encouraged to speak up or to pipe down?
Do they share ideas openly or do they remain silent in ways that are hurtful to individuals and harmful to the functioning of their organizations?
Moving beyond the extreme actions of whistle-blowers, questions about having voice (can I speak?), exercising voice (do I speak?), the content of voice (what do I say?), and presumed reactions to voice (how will others respond to what I say?) are ubiquitous ones that frame the everyday behavior of people in organizations. "Voice and Silence in Organizations" is a collection of 12 original essays that address these and related issues from a wide variety of scholarly perspectives.
This work comprises of chapters by highly regarded psychologists, sociologists and management scholars from around the world offer new conceptual insights and empirical findings that promise to become valuable contributions to this burgeoning area.
As the first book of its kind on this topic, Voice and Silence in Organizations is poised to become a classic.
Free Home Delivery
on all orders
Pick up orders
from local bookshops