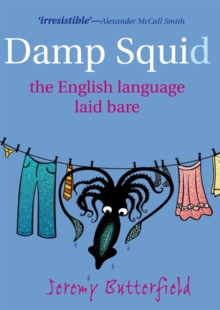 Damp Squid : The English Language Laid Bare
Paperback / softback
Description
How many words are there in the English language and where were they born?
Why does spelling 'wobble' and why do meanings change?
How do words behave towards each other - and how do we behave towards words? And what does this all mean for dictionary-making in the 21st century?This entertaining book has the up-to-date and authoritative answers to all the key questions about our language.
Using evidence provided by the world's largest language databank, the Oxford English Corpus, Butterfield exposes the English language's peculiarities and penchants, its development and difficulties, revealing exactly how it operates.
Interpolating his expert knowledge of dictionary-making, Butterfield explains how dictionaries decide which words to include, how they find definitions,and how a Corpus influences the process.
Whether you are happy to give the language free rein (free reign?), or whether you are more straight-laced (strait-laced?) when it comes to change, you will be amazed at what is revealed when the English language goes buck naked. (Or should that be butt naked?)
Information
Format: Paperback / softback
Pages: 192 pages, some tables and charts
Publisher: Oxford University Press
Publication Date: 23/07/2009
Category: Language: history & general works
ISBN: 9780199574094
Other Formats
PDF from £6.49
EPUB from £6.49
Also by Jeremy Butterfield