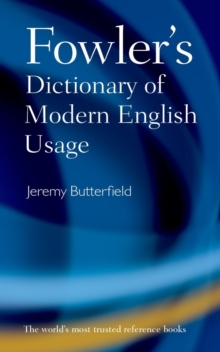 Fowler's Dictionary of Modern English Usage
Hardback
Description
Why literally shouldn't be taken literally. Why Americans think home in on something is a mistake and Brits think hone in is.
Is it OK to spell OK okay? What's wrong with hence why? Was Alanis Morrisette ever ironic? Fowler's Dictionary of Modern English Usage is the world-famous guide to English usage, loved and used by writers, editors, and anyone who values correct English since it first appeared in 1926.
Fowler's gives comprehensive and practical advice oncomplex points of grammar, syntax, punctuation, style, and word choice. Now enlarged and completely revised to reflect English usage in the 21st century, it provides a crystal-clear, authoritative picture of the English we use, while illuminating scores of usage questions old and new.
International inscope, it gives in-depth coverage of both British and American English usage issues, with reference also to the English of Australia, Canada, India, New Zealand, and South Africa.
The thousands of authentic examples in the book vividly demonstra
Information
Format: Hardback
Pages: 928 pages
Publisher: Oxford University Press
Publication Date: 29/01/2015
Category: Usage & grammar guides
ISBN: 9780199661350