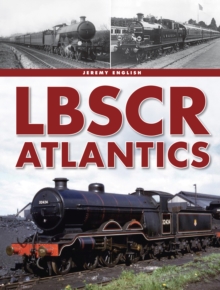 Description
The 4-4-2 Atlantic locomotive type was developed in Britain in the late 19th century and among the finest examples in the eyes of many were the London, Brighton & South Coast Railway's Class 'H1' express passenger locomotive designed by Chief Mechanical Engineer R.
E. Marsh and the 'H2s' built by Marsh's sucessor Billinton. Marsh's original design of the 'H1s' owed much to Ivatt's 'C1' 'Klondyke' Atlantics built for the Great Northern Railway as both engineers recognised that the previous generation of locomotives were struggling to deal with the increasingly higher loadings on the railway and the Atlantic design enabled a higher power output.
Although only five 'H1' Atlantics were built in in 1905-6, they continued in service with the Southern Railway following the Grouping in 1923 and into BR days, being withdrawn in the 1940s and 50s.
Named after landmarks on the South Coast, they proved popular on the London-Brighton route, including on the prestigious 'Southern Limited' and 'Brighton Belle' Pullman services. In 1911 Billinton built a further six Atlantic locomotives based on the 'H1s' but with Schmidt superheater boilers to enhance their performance. This 'H2' class also ran the express passenger services between London and Brighton but by the mid 1920s they had to relinquish these services to the Southern Railway's new locomotive classes, such as the 'King Arthurs'.
The 'H1s' and 'H2s' were moved to other services on the Southern, notably on the boat trains, but when these were curtailed during World War 2, a number of the Atlantics were put into storage.
In spite of a resumption of these duties after the war, the last example of 'H2' was withdrawn in 1958. In this book author Jeremy English gives a detailed history of the design, development and operations of the Brighton 'H1s' and 'H2s'.
The text is supplemented with photographs and line drawings.
An introductory chapter will also give a brief history of the 'I1', 'I2', 'I3' and 'I4' class 4-4-2T Atlantic tank locomotives built for the LBSCR by Marsh for suburban services.
Free Home Delivery
on all orders
Pick up orders
from local bookshops