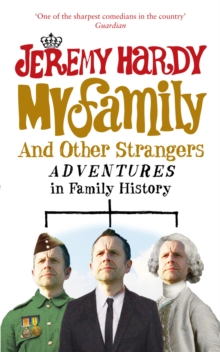 My Family and Other Strangers : Adventures in Family History
Paperback
Description
When Jeremy Hardy decided to explore his ancestry it was, in part, to get to the bottom of his grandmother Rebecca's dubious claims that the family descended from a certain 17th-century architect and that, more recently, Jeremy's great-grandfather was a Royal bodyguard.
Other legends ranged from the great aunt who ran illegal hooch during Prohibition to the wronged Victorian servant girl who bore an illegitimate Hardy, not forgetting the family's rightful claim to a large country estate.
Wild stories aside, Jeremy sets out to such diverse locations as the Croydon one-way system and the hostile waters around Malta in order to find traces of recognisable family traits and a sense of how he came to be.
With wry humour and a keen eye for the absurd and the frustrating, Jeremy takes us on a by turns funny and moving journey into the world of family ancestry. "My Family and Other Strangers" will be enjoyed by anyone who has tried to decipher the 1901 census records, or simply wishes they too had asked their grandparents more about their lives.
Information
Format: Paperback
Pages: 320 pages
Publisher: Ebury Publishing
Publication Date: 01/03/2010
Category: Memoirs
ISBN: 9780091927509
Free Home Delivery
on all orders
Pick up orders
from local bookshops
Reviews
Showing 1 - 2 of 2 reviews.
Review by passion4reading
16/06/2015
As a keen family historian myself, I'm still puzzled as to why Jeremy Hardy wrote this book as throughout it he displays virtually no passion for it and bemoans the fact that he has to deal with the past and dead people. Only at the very end of the book does it come across that he enjoyed part of the journey and that he may continue doing some research into his family history now that the book is finished. For a large part of the book one gets the impression that he mostly relies on other family members' research, goes to places completely unprepared, and quickly gets bored with what he finds or doesn't find as is more often the case. When he finally gets round to doing some searching for records at The National Archives in Kew, he hates the whole experience, finding it "oppressive". Maybe it is true that reading someone else's account of their family tree does not make for a particularly riveting read because it simply isn't one's own family and one therefore doesn't become emotionally involved. To me the whole book felt more like a sort of mildly amusing travel account with family history bits tagged on which would have been a more appropriate but less snappy subtitle than "Adventures in Family History". Not much of his sharp wit in evidence here, instead a few anecdotes about travelling through the Home Counties and Norfolk by train or car using satnav, with an excessive use of expletives. In one chapter he writes that he hopes his former English teacher will enjoy the book and that he'd be gutted if she didn't; well, in my view she'd be pretty disappointed by his unnecessary foul language. If it hadn't been for the fact that I was reading this book during a hospital stay and during the initial convalescence at home, when my brain couldn't cope with anything more demanding, it only would have got two stars. As it is, it was a diverting enough read that passed the time but nothing more.
Very funny and very dry. Surprisingly touching in places too.