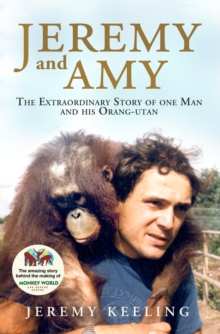 Jeremy and Amy : The Extraordinary Story of One Man and His Orang-utan
Hardback
Description
One day in 1984, when Jeremy was driving along with one-year-old Amy sitting beside him in the passenger seat, he fell asleep at the wheel and caused a horrific car crash.
The first policeman on the scene crawled into the wreckage where he was staggered to see a hairy, non-human hand cradling Jeremy's head amid the glass and twisted metal: having been saved by Jeremy, Amy now refused to let him go. For Jeremy, it was to be a long convalescence, but he and Amy joined forces with Jim Cronin, a tough-talking primate-lover from the Bronx, who shared his vision of creating a sanctuary for abused and abandoned monkeys. Pooling their knowledge, passion and meagre resources, the two men took on a derelict pig farm in Dorset and, over the next twenty years, slowly transformed it into a 65-acre, cage-less sanctuary for beleaguered primates, rescued from poachers, photographers and scientists on daring raids.
Monkey World is now internationally famous and attracts some 800,000 visitors a year. This is a high-wire adventure story of grit and determination, and of love, hope and 88 Capuchin monkeys in the back of a Hercules transport plane, but most of all, at its heart, it is an inspiring tale of the life-changing bond between one man and his ape.
Jeremy Keeling first met Amy, an abandoned orang-utan, when he was looking after the private menagerie of music impresario Gordon Mills.
Amy had been born to an orang-utan with no maternal instincts and Jeremy, feeling a connection with the rejected primate, hand-reared her.
A friendship was forged that would become the defining relationship of both their lives.
Information
Format: Hardback
Pages: 320 pages
Publisher: Short Books Ltd
Publication Date: 17/06/2010
Category: Memoirs
ISBN: 9781906021986
Free Home Delivery
on all orders
Pick up orders
from local bookshops
Reviews
Showing 1 - 1 of 1 reviews.
Review by DeltaQueen50
16/06/2015
I love reading books about people who are passionate about something and find a way to build their life around this love. Be it acting or rodeo riding, doing what you love seems to create an extra zest for life that makes for enjoyable reading. In this case, Jeremy Keeling loves animals, in particular apes, and he has built his life around these creatures.His rather traumatic childhood involved very odd, uncaring parents but he was brought up surrounded by animals in their family run zoo. Although he tried other jobs, he always came back to zoo-keeping and eventually landed a job as the keeper of the private menagerie of a music producer. It was here that Amy the Orang-utan was born. Rejected by her mother, Keeling hand raised her and together they formed an unbreakable bond. Rather than the loveable monkey you might expect, Amy actually proved rather difficult and solitary, although she definitely bonded with Jeremy.Jeremy and his friend, Jim Cronin, are the brains behind Monkey World, a sanctuary that was set up in 1987 and this book details the ups and downs of creating a place where apes can be safe, and humans can get a chance to interact with these animals.This is a man who had dedicated his life to the rescue and well-being of these creatures and there is much to be admired. I did however feel sorry for his girlfriends/wives and children as they always appeared to come a distant second to the animals. An interesting yet light read that I enjoyed.
Also by Jeremy Keeling