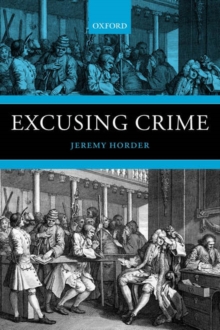 Excusing Crime
Paperback / softback
Description
When should someone who may have intentionally or knowingly committed criminal wrongdoing be excused?
Excusing Crime examines what excusing conditions are, and why familiar excuses, such as duress, are thought to fulfil those conditions. The 'classical' view of excuses sees them as rational defects (such as mistake) in the motive force behind an action, but contrasts them with 'denials of responsibility', such as insanity, where the rational defect in that motive force is attributable to a mental defect in the agent him- or herself.
This classical view of excuses has a long heritage, and is enshrined in different forms in many of the world's criminal codes, both liberal and non-liberal; however, in this book, Jeremy Hordercontends that it is now time to move beyond it.
Horder develops a 'liberal' account of excuses, arguing that the 'classical' distinction between rational defects and 'denials of responsibility' is too sharp, and also that the classical view of excuses is too narrow.
He contends that it can be right to treat claims as excusatory even if they rely on a combination of elements of rational defect in the motive force behind the action, even if that defect is in part attributable to a mental deficiency in the agent him or herself ('diminishedcapacity').
Further, he argues that there can be a sound case for excuse even when people can give full rational assent to their actions, such as when they could not reasonably have been expected to do more than what they did to avoid committing wrongdoing ('due diligence'), or, more rarely, when theirconscience understandably left them with no moral freedom to do other than commit the wrong ('demands-of-conscience').
Information
Format: Paperback / softback
Pages: 320 pages
Publisher: Oxford University Press
Publication Date: 22/03/2007
Category: Ethics & moral philosophy
ISBN: 9780199225781
Free Home Delivery
on all orders
Pick up orders
from local bookshops
Also in the Oxford Monographs on Criminal Law and Justice series | View all