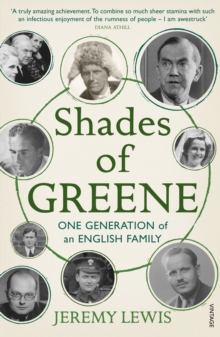 Shades of Greene : One Generation of an English Family
Paperback
Description
In the early years of the last century, two brothers, Charles and Edward Greene, settled in Berkhamsted, a small country town thirty miles from London.
There they were to found a remarkable dynasty - fathering twelve children between then - each of whom were to lead varied, well-documented and extraordinary lives.
This book explores for the first time this generation of the Greene family in colourful detail - their relationships and shared history, and their lives - as explorers, writers, doctors, spies, politicians and much more.
There is Graham, one of the greatest English writers of the twentieth century; Hugh, the Daily Telegraph's Berlin corespondent in the years leading up to WW2, and later Director-General of the BBC; Raymond, a brilliant mountaineer and medical man who took part in the 1933 Everest expedition; their sister Elisabeth, MI6 agent, enlisting family and friends into the secret service; cousin Ben, a pacifist and Labour Party activist who was interned in 1940 at the same time as Oswald Mosley; his sister, Barbara, who spent the war in Germany; and their younger brother Felix, a pioneer of radio journalism and apologist for Communist China, who moved to a commune in California with his cousin Christopher Isherwood and Aldous Huxley; and Herbert, the black sheep of the family, fantasist and amateur spy. Interlacing biography, history, high adventure and scenes from literary life, Shades of Greene provides a riveting insight into the self-confident, enterprising, upper middle-class English world that flourished between the 1920s and the 1970s: and into a truly remarkable tribe.
Information
Format: Paperback
Pages: 592 pages
Publisher: Vintage Publishing
Publication Date: 07/04/2011
ISBN: 9780099551881
Free Home Delivery
on all orders
Pick up orders
from local bookshops
Reviews
Showing 1 - 1 of 1 reviews.
Review by jcbrunner
16/06/2015
This is a parallel biography of the two branches of the upper middle class Greene family. Graham Greene, the most famous one amongst them, had many siblings and cousins. Twelve Greenes in all. Age-wise, they were lucky in an unlucky era: Two young for the First World War, they were too old for the Second World War. The worst passed them by. The 1930s and 1940s were the crucial years of their lives. Apart from Graham Greene, writer and amateur spy, we meet one Greene as a doctor and Himalaya explorer, another as a German war correspondent and later BBC director general. The Greenes produced weirdos too: One became a proto-Hippie in California, one a leftist turned fascist extremist and finally the black sheep of the family, a drunken traitor. Graham Greene's branch was much more successful than that of his cousins despite their initial financial advantage. Their German mother instilled German sympathies in them - which was not helpful during the 1930s and 1940s. One sister even married a German count and spent the Second World War in Germany. Overall, I found the story of Graham's sisters and brothers far more interesting than the rather weird lives of his cousins. In sum, it shows the global reach and small world of a well connected English family. The author's name-dropping of minor lights of British society at times is distracting. These shout-outs to his social circle must be of little relevance to most readers. The author also avoids all mention of Graham Greene's homo- or bisexuality. Given the standard account in most modern biographies, this "no sex, we are English" approach seems rather outdated and prissy.