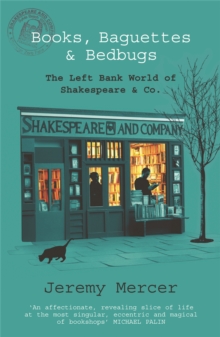 Books, Baguettes and Bedbugs : the Left Bank World of Shakespeare and Co
Paperback
Description
Enchanting memoir of a struggling writer living and working in the eccentric Parisian bookshop, 'Shakespeare and Company' 'Shakespeare and Company' in Paris is one of the world's most famous bookshops.
The original store opened in 1921 and became known as the haunt of literary greats, such as Ernest Hemingway, F.
Scott Fitzgerald, George Bernard Shaw, Ezra Pound, Gertrude Stein and James Joyce. Sadly the shop was forced to close in 1941, but that was not the end of 'Shakespeare and Company'...In 1951 another bookshop, with a similar free-thinking ethos, opened on the Left Bank.
Called 'Le Mistral', it had beds for those of a literary mindset who found themselves down on their luck and, in 1964, it resurrected the name 'Shakespeare and Company' and became the principal meeting place for Beatnik poets, such as Allen Ginsberg and William S.
Burroughs, through to Henry Miller and Lawrence Durrell. Today the tradition continues and writers still find their way to this bizarre establishment, one of them being Jeremy Mercer. With no friends, no job, no money and no prospects, the thrill of escape from his life in Canada soon palls but, by chance, he happens upon the fairytale world of 'Shakespeare and Co' and is taken in.
What follows is his tale of his time there, the curious people who came and went, the realities of being down and out in the 'city of light' and, in particular, his relationship with the beguiling octogenarian owner, George.
Information
Format: Paperback
Pages: 272 pages
Publisher: Orion Publishing Co
Publication Date: 01/08/2006
Category: Autobiography: general
ISBN: 9780753820582
Free Home Delivery
on all orders
Pick up orders
from local bookshops
Reviews
Showing 1 - 2 of 2 reviews.
Review by afterthought
16/06/2015
As someone who can spend a few hours "lost" in bookshops, Shakespeare & Co. sounds like a dream come true. Reading through Mercer's eyes and I could almost see the place for myself, the residents, the tea parties, and of course the beauty and tranquility of Paris. True, life seemed pretty difficult at times but to have that freedom of just reading a book a day, or midnight story tellings by the Seine under the shadow of the great Notre Dame, or even taking a metro/train to go over to England, Ireland, Spain, is something I would yearn for. How I wish to drop by the shop, maybe even spent a week or two in the companies of interestings would-be writers, poets, and four walls of BOOKS! But first, I need to save enough for a trip to Paris from almost a 1/4 of the globe away...
Review by elliepotten
16/06/2015
On the run from an unfortunate mistake in his Canadian life as a crime journalist, Jeremy Mercer heads to Paris to escape for a while. Caught in a rainstorm near Notre-Dame one afternoon, he spots a welcoming light across the river and thus stumbles inadvertently on the Shakespeare and Company bookshop. Invited upstairs for tea by the beautiful woman behind the desk, wandering the labyrinth of books and beds, he soon realises that this is no ordinary bookshop and, as a poor writer, is invited to join the ranks of lost souls inhabiting the book-lined rooms.So begins his whimsical and quintessentially bohemian stay, under the watchful eye of eccentric owner George Whitman (surely the star of the book, with his fascinating life and Communist ideals), who renamed his unique store after the original literary oasis, run by his good friend Sylvia Beach, which was forced to close down during the Second World War. Here all are welcome to browse and lose themselves in their reading; tea is offered on a Sunday; eclectic readings take place in the library; literary and political opinions are argued out – and those in need of a bed will find one amongst the books in return for a few hours helping around the shop and in the kitchen.Mercer deliciously evokes days trawling the scattered tomes, nights spent storytelling by the Seine, tourists attracted by the store's reputation, wanderers attracted by Whitman's generosity, showering in the public washhouses, scrounging leftover food to get by: in short, a poor life, without good facilities or scope for wastage of any kind, but a happy, lively life nonetheless. The characters moving through Whitman's utopia are many and varied, yet he remains, a kind of rock in the tides of time and tourism, as the chaos of youthful dreams and books and wine whirls around him. Of course, eventually reality bites for Mercer and it's time to move on – but his journey is magical and the lessons of the bookstore honest. Now I have Sylvia Beach's own book 'Shakespeare and Company' to read, and I recommend the documentary 'Portrait of a Bookstore as an Old Man', made towards the end of Mercer's time in Paris and readily available online. Still not sure whether to read it? Try searching online for photos of the store in all its glory – if that doesn't persuade you, nothing will!