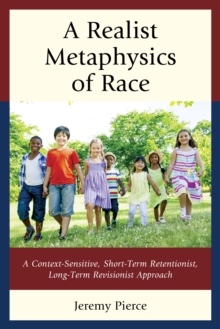 A Realist Metaphysics of Race : A Context-Sensitive, Short-Term Retentionist, Long-Term Revisionist Approach
Hardback
Description
In A Realist Metaphysics of Race: A Context-Sensitive, Short-Term Retentionist, Long-Term Revisionist Approach, Jeremy Pierce defends a social kind view of racial categories.
On this view, the biological features we use to classify people racially do not make races natural kinds.
Rather, races exist because of contingent social practices, single out certain groups of people as races, give them social importance, and allow us to name them as races.
Pierce also identifies several kinds of context-sensitivity as central to how racial categorization works and argues that we need racial categories to identify problems in how our racial constructions are formed, including the harmful effects of racial constructions.
Hence, rather than seeking to eliminate such categories, Pierce argues that we should also make efforts to change the conditions that generate their problematic elements, with an eye toward retaining only the unproblematic aspects.
A Realist Metaphysics of Race contains insights relevant not just to professional philosophers in metaphysics, philosophy of race, social philosophy, philosophy of language, and philosophy of science, but also to students and scholars working in sociology, biology, anthropology, ethnic studies, and political science.
Information
Format: Hardback
Pages: 178 pages
Publisher: Lexington Books
Publication Date: 11/12/2014
Category: History of Western philosophy
ISBN: 9780739175606
Free Home Delivery
on all orders
Pick up orders
from local bookshops
Also by Jeremy Pierce