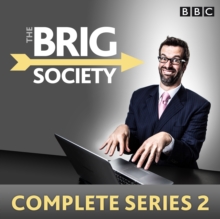 The Brig Society: Complete Series 2 : Six episodes of the BBC Radio 4 comedy show
eAudiobook MP3
Please note: eAudiobooks can only be purchased with a UK issued credit card.
Description
**Shortlisted for the BBC Audio Drama Award 2015 for Best Scripted Comedy (Studio Audience)**
In the complete second hit series from the people who brought you "Cabin Pressure" and "Giles Wemmbley Hogg Goes Off", stand-up comedian Marcus Brigstocke has been put in charge of a thing! Each week, Marcus finds he's volunteered to be in charge of a big old thing - the European Union, Social Media, the banking system, the farming industry - and each week he starts out by thinking "Well, it can't be that difficult, surely?" and ends up with "Oh - turns out it's utterly difficult and complicated. Who knew...?". Join him and regular guest stars Rufus Jones ("Hunderby", "Holy Flying Circus"), William Andrews ("Sorry I've Got No Head") and Margaret Cabourn-Smith ("Miranda") as they tackle the ills of British society, from legalization of drug and bailing out banks all the way up to the big issues - like why isn't Lambing Live on all the year round and what colour robe to wear in his new religion. Written by Marcus Brigstocke, Jeremy Salsby, Toby Davies, Nick Doody, Dan Tetsell & Steve Punt.
In the first episode, Marcus has got himself elected as a Member of the European Parliament. So it's off to Brussels to meet Europe's finest parliamentary minds and also UKIP. Along the way, he'll be examining the history of the EU, its legislative structure, the democratic burden that must be shouldered to promulgate a more humane society and why so many UKIP members wear yellow trousers.
Show Two, and Marcus has decided to create his own Social Media site. Please RT. Please Follow. Please Like. Please give all your details to Google and the National Security Agency. And in Show Three, Marcus has Broken Bad and become a drug dealer. He'll also go on a long personal journey, and along the way he'll examine the complex interrelationship between legalization, culture, hypocrisy and cheese.
Show Four, and it's both ooh-er and ooh-ar as Marcus has grasped the bull by the horns and become a farmer. After all, what could go wrong? As he himself puts it- "Dairy, livestock, cattle - it's all grist to my mill."
In the fifth show, glory be, Marcus Brigstocke has decided to form his own religion, based on peace, lovingkindness and probably war. And in the final show of this series, we would like to inform you that Marcus Brigstocke has decided to open a bank. That'll be GBP25 please. If you would like to call our customer helpline... that will be another GBP25
Information
Format:eAudiobook MP3
Run-time:2 hours 47 mins
File size:0MB
Publisher:BBC Audio
Publication Date:20/11/2014
Category:
ISBN:9781785290480