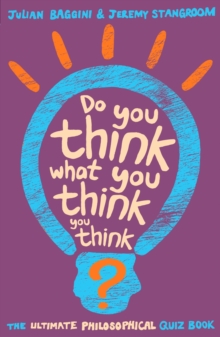 Do You Think What You Think You Think? : The Ultimate Philosophy Quizbook
Paperback
Description
Is your brain ready for a thorough philosophical health check?
Really, it won't hurt a bit...Is what you believe coherent and consistent? Or is it a jumble of contradictions? If you could design yourself a God, what would He (or She, or It) be like?
Can you spot the logical flaw in an argument (even if it's hiding from you)? And how will you fare on the tricky terrain of ethics when your taboos are under the spotlight?
If all this causes your brain to overheat, there is a philosophy general knowledge quiz to round off with. "Do You Think What You Think You Think?" presents a dozen quizzes that will reveal what you really think and what it all adds up to (brace yourself: it might not add up to what you expected).
Challenging, fun, infuriating - sometimes all at once - this book will enable you to discover the you you never knew you were.
Think of it as an MOT for your mind.
Free Home Delivery
on all orders
Pick up orders
from local bookshops
Reviews
Showing 1 - 2 of 2 reviews.
Review by MikeFarquhar
16/06/2015
Do You Think What You Think You Think? is a fun wee book; a series of exercises designed to test how internally consistent your beliefs are. Baggini is a philosopher who writes a lot of accessible works, and this is no exception. In format it's similar to a lot of the quizzes you see popping up in various places on the Net, but the authors deconstruct your answers and take you through areas of contradiction in how you've answered. It's a good idea and, while I can't claim to have learned anything particualrly new about myself from playing along, it's another example of how it's refreshing every now and then to examine why we think what we think.
Review by tsutsik
16/06/2015
This is a very lovely book if you have strong views on philosophy, politics, art or religion. It doesn't matter if you are atheist or religious, have liberal views or a strong moral view of the world. To enjoy this book fully you should start with the first test and not read in advance any explanations or look for the 'right' answer in advance. There are no right answers is in fact one of the messages of this book. It was for me a nice confrontation with flaws in my own beliefs, and pointed out some inconsistencies in them. A tip: don't write your answers in the book itself, it is an excellent book to share with your friends and compare notes afterwards.