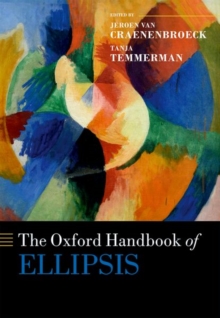 The Oxford Handbook of Ellipsis
Hardback
Description
This handbook is the first volume to provide a comprehensive, in-depth, and balanced discussion of ellipsis phenomena, whereby the meaning of an utterance is richer than would be expected based solely on its linguistic form.
Natural language abounds in these apparently incomplete expressions, such as I laughed but Ed didn't, in which the final portion of the sentence, the verb 'laugh', remains unpronounced but is still understood.
The range of phenomenainvolved raise general and fundamental questions about the workings of grammar, but also constitute a treasure trove of fine-grained points of inter- and intralinguistic variation. The volume is divided into four parts. In the first, authors examine the role that ellipsis plays and how it is analysed in different theoretical frameworks and linguistic subdisciplines, such as HPSG, construction grammar, inquisitive semantics, and computational linguistics.
Chapters in the second part highlight the usefulness of ellipsis as a diagnostic tool for other linguistic phenomena including movement and islands and codeswitching, while part III focuses instead on the types ofelliptical constructions found in natural language, such as sluicing, gapping, and null complement anaphora.
Finally, the last part of the book contains case studies that investigate elliptical phenomena in a wide variety of languages, including Dutch, Japanese, Persian, and Finnish SignLanguage.
Information
Format: Hardback
Pages: 1152 pages
Publisher: Oxford University Press
Publication Date: 07/10/2018
Category: Psycholinguistics
ISBN: 9780198712398
Also in the Oxford Handbooks series | View all