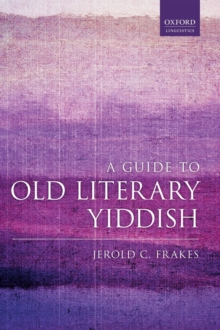 A Guide to Old Literary Yiddish
Hardback
Description
This book is a comprehensive introductory manual that guides beginners to a functional reading knowledge of late medieval and early modern Yiddish (c.1100-1750).
It is the first such manual to exist for that language, whose early literary tradition comprises a range of genres as broad as other contemporary European literary traditions.
The guide is organized as a series of progressively more complex lessons, focused on key texts of the literary corpus, which are presented in their authentic form as found in manuscripts and early printed books.
The lessons seek to accommodate readers ranging from absolute beginners to those who might already know Hebrew, medieval German, or modern Yiddish.
The focal texts are the Old Yiddish midrashic heroic lay,'Joseph the Righteous', from the earliest extant manuscript collection of Yiddish literature (1382), the Middle Yiddish romance adventure tale, 'Briyo and Zimro', from a later collection (1585), and a full canto of the Middle Yiddish epic, Pariz and Viene (1594), each with full glosses and a step-by-step introduction to the morphology, syntax, and phonology. Each lesson also includes a brief supplemental text that cumulatively demonstrates the broad cultural range of the corpus.
In addition, several appendices of supplementary material round out the volume, including a collection of additional readings, a table of the manuscript hands and printing fonts employed in the volume, and a full end-glossary of all Yiddish words found in the texts.
Information
Format: Hardback
Pages: 400 pages
Publisher: Oxford University Press
Publication Date: 29/06/2017
Category: linguistics
ISBN: 9780198785026
Free Home Delivery
on all orders
Pick up orders
from local bookshops