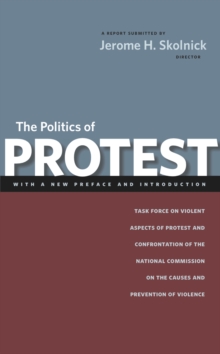 The Politics of Protest : Task Force on Violent Aspects of Protest and Confrontation of the National Commission on the Causes and Prevention of Violence
Paperback / softback
Description
Triggered by the massive and often violent civil rights and anti-Vietnam War protests of the 1960s, in 1968 the Johnson Administration created the National Commission on the Causes and Prevention of Violence to analyze violent protest and to make recommendations on how to reduce it.
The report that Jerome H. Skolnick and his team of researchers produced in the remarkably short time span of seven months had a significant influence on policymakers and law enforcers, and also sold over 100,000 copies before going out of print in the early 1980s.
The book examined antiwar, student, and black protest, and studied the responses of the law enforcement and judicial communities to violent protest. Forty years later and long out of print, the book remains a classic.
In light of new twenty-first-century confrontations including anti-Iraq War demonstrations, face-offs between environmentalists and developers, and the continued specter of street violence between cops and people of disadvantaged communities, the time is ripe to reconsider the report's findings.
In his new preface and introduction, Skolnick compares the trends and events documented in the original report to their present-day forms of protest.
Information
Format: Paperback / softback
Pages: 480 pages
Publisher: New York University Press
Publication Date: 01/02/2010
Category: Criminal law & procedure
ISBN: 9780814740989
Free Home Delivery
on all orders
Pick up orders
from local bookshops