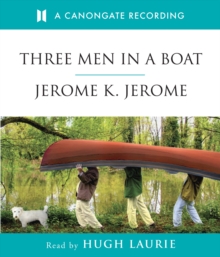 Three Men in a Boat
CD-Audio
Description
Three Men in a Boat is one of the most amusing and durable books in the English language.
Semi-autobiographical, it recounts the adventures and mishaps of George, Harris, J. (the author) and his remarkable dog Montmorency during a boat trip along the River Thames in England from London to Oxford.
Jerome K. Jerome originally intended the book to be a guide to the Thames Valley but his publisher thought it so entertaining it was published as a comic novel and has endured as a classic of the genre ever since.
Wonderfully light and surprisingly modern in tone, the sense of fun is irrepressible, the enjoyment unstoppable.
Real laugh-out-loud stuff.Hugh Laurie is one of Britain's most successful actors.
Having started out with Stephen Fry in Jeeves and Wooster, Blackadder and A Bit of Fry and Laurie, he has become a superstar in America thanks to the success of the television series House, where he plays the eponymous doctor protagonist.
Other Formats
Paperback from £3.65
CD-Audio from £11.35
Mixed media product from £10.65
EPUB from £1.07
Free Home Delivery
on all orders
Pick up orders
from local bookshops
Reviews
Showing 1 - 2 of 2 reviews.
Review by Cariola
16/06/2015
This was a bit of a departure from the usual book I read, but I'd heard good things about it from some fellow LTers, and the fact that this was an audiobook read quite delightfully by Hugh Laurie made it all the more appealing. However, I found it only mildly amusing. At times it reminded me of vacations taken as a child, when my dad would never admit that we were lost or that he didn't know how to do something, however much of a botch he made of it (like trying to pitch a tent after midnight in the rain with only the car headlights to see by). Both the plot and the characters were a bit slim; Montmorency, the fox terrier, was probably the most interesting. Don't get me wrong: it wasn't bad, it's just not a book that will stick with me for long. If you're looking for a bit of light humor that you can read or listen to in a few hours, you might enjoy it more than I did.
Review by debs4jc
16/06/2015
Classic book narrated by a gentleman who describes--in great detail--his observations upon the boating trip he and two chums went on. Nothing much really seems to happen here, it's just an excuse for the narrator to share family antedotes and his own general opinions of the world as he relates their boating mishaps. Recommended as an early example of a 'thriller' but there's not much thrilling about it.