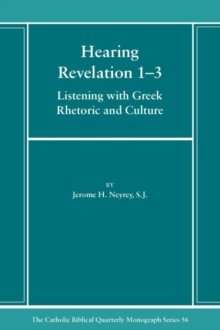 Hearing Revelation 1-3 : Listening with Greek Rhetoric and Culture
Paperback / softback
Description
Recipients of Revelation listened to it, and heard it like other oral performances.
Greek recipients knew not only Greek, but conventional ways of rhetorical presentation typical of Greek culture.
They knew how works began (with a proemium, but with focus on speaker's ethos).
Ethos of speaker was the first proof of persuading, and so audiences knew what one sounded like.
They heard Revelation 1 as a continuous presentation, not like scholars pausing to examine each tile in the mosaic.
The Speaker of Revelation 1-3 is Jesus - not John, who delivers God's revelation to the seven churches.
After presenting himself in an impressive bodily manner, called an ecphrasis, he addresses seven individual letters.
He repeats appropriate aspects of his ethos in his address of each letter.
The letter type is solely that of praise and blame. Because this type is opaque to modern readers, the monograph presents examples of letters of praise and of blame.
Greek hearers, moreover, valued more than anything praise, honor and respect, and so these cultural values are presented in some detail.
Finally, each of the seven letters is then examined in the light of praise and blame, which in this context means in terms of common understanding of the cardinal virtues: prudence, justice, courage, and temperance.
The two dominant virtues turn out to be justice and courage.
Since most commentators on Revelation consider the cities from the eyes of elite writers of antiquity, the mean character of urban life needs be brought into focus.
Only then can the virtues of the non-elites be identified and given proper praise or blame.
Whatever else goes on in Revelation, the first three chapters are thoroughly Greek in composition, structure, and values.
Information
Format: Paperback / softback
Pages: 216 pages
Publisher: Catholic Biblical Association
Publication Date: 30/07/2019
Category: New Testaments
ISBN: 9780915170562
Free Home Delivery
on all orders
Pick up orders
from local bookshops
Also in the Catholic Biblical Quarterly Monograph Series series | View all