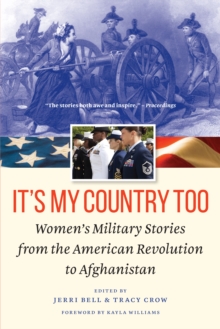 It's My Country Too : Women'S Military Stories from the American Revolution to Afghanistan
Paperback / softback
Description
This inspiring anthology is the first to convey the rich experiences and contributions of women in the American military in their own words-from the Revolutionary War to the present wars in the Middle East. Serving with the Union Army during the Civil War as a nurse, scout, spy, and soldier, Harriet Tubman tells what it was like to be the first American woman to lead a raid against an enemy, freeing some 750 slaves.
Busting gender stereotypes, Josette Dermody Wingo enlisted as a gunner's mate in the navy in World War II to teach sailors to fire Oerlikon anti-aircraft guns.
Marine Barbara Dulinsky recalls serving under fire in Saigon during the Tet Offensive of 1968, and Brooke King describes the aftermath of her experiences outside the wire with the army in Operation Iraqi Freedom.
In excerpts from their diaries, letters, oral histories, and pension depositions-as well as from published and unpublished memoirs-generations of women reveal why and how they chose to serve their country, often breaking with social norms, even at great personal peril.
Information
Format: Paperback / softback
Pages: 378 pages
Publisher: University of Nebraska Press
Publication Date: 01/09/2019
Category: History of the Americas
ISBN: 9781640122321