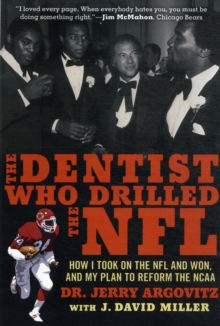 Super Agent : The One Book the NFL and NCAA Don't Want You to Read
Hardback
Description
Super Agent. Maverick. Reformer. Iconoclast. Dealmaker. Dentist. Jerry Argovitz has worn many hats in his remarkable life, both inside and outside of the world of sports.
It's been thirty years since sportscaster Brent Musburger referred to Argovitz as "the most powerful man in football," thirty years since Argovitz-as a super agent representing and advising some of the biggest names in the game-negotiated the first million-dollar guaranteed contract in NFL history.
Thirty years since he wrote the language for career-ending insurance policy underwriting by Lloyds of London.
Thirty years since he changed the business of pro football forever.
When the NFL refused to budge from its system of 'slotting' players in the draft, Argovitz withheld his clients' services, and in one case, he took two first-rounds picks to Canada.
When the NFL wouldn't sign underclassmen, he negotiated and brokered the deal that brought Heisman Trophy winner Herschel Walker to the upstart USFL as a junior, which opened the floodgates for all juniors to soon follow. Argovitz's attacks on the NFL's system of free agency created a groundswell that would eventually dismantle the league's old system that prevented players from changing teams.
He also became the first agent to own a professional football team when he became owner of the Houston Gamblers of the USFL, where as a member of that league's competition committee he implemented several rules which were subsequently adopted by the NFL.
He was also a key principal in a lawsuit against the NFL that proved the league was guilty of Sherman Antitrust violations, a verdict that lives on today as the foundation of the current 2011 NFL players strike.
Thirty years later, Jerry Argovitz is still fighting.
But this time, it's the NCAA he's taking on. Fed up with the hypocrisy of the multi-billion dollar sanctioning body of collegiate sports, Argovitz proposes widespread, sweeping changes.
In "The Dentist Who Drilled the NFL", he not only tells his colorful story but also reveals his plan for the reform of college athletics, reform he believes has been coming for at least thirty years.
Information
Format: Hardback
Pages: 320 pages, 25 illustrations
Publisher: Sports Publishing LLC
Publication Date: 17/01/2013
Category: Memoirs
ISBN: 9781613210680
Free Home Delivery
on all orders
Pick up orders
from local bookshops