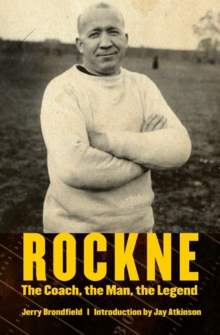 Rockne : The Coach, the Man, the Legend
Paperback / softback
Description
On April 1, 1931, newspapers in all parts of the country announced in giant headlines that Knute Rockne had died in a plane crash in Kansas.
Who was Rockne, age forty-three, to receive all this attention?
As head coach of the Notre Dame football team, he was a celebrity whose face and voice were familiar to millions through magazines, newspapers, and radio.
At Notre Dame, he himself had been a great football player.
After graduation, he remained to teach chemistry and coach track and football.
At thirty, he was named head football coach for the Fighting Irish, and over the next thirteen years, his team went undefeated five times.
Rockne coached stars such as George Gipp, one of the most talented men ever to play the game, and the "Four Horsemen," the most famous backfield in football history.
He raised the status of the coaching profession and helped develop Notre Dame's nationwide following of millions of Irish and other Catholics, many of whom had never even entered a college classroom.
In Rockne Jerry Brondfield has recaptured the magnetism that made Rockne great.
In this dramatic and peculiarly American story, he shows how a Norwegian immigrant could gain lasting fame as the coach of an American game at a university founded by Frenchmen and associated with the Irish.
Information
Format: Paperback / softback
Pages: 288 pages, 1 image
Publisher: University of Nebraska Press
Publication Date: 01/09/2009
Category: Biography: sport
ISBN: 9780803226791