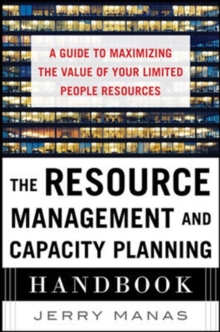 The Resource Management and Capacity Planning Handbook: A Guide to Maximizing the Value of Your Limited People Resources
Hardback
Description
THE DEFINITIVE GUIDE TO MAXIMIZING LIMITED RESOURCES TO INNOVATE AND GROWTrying to accomplish too much with too few resources has become almost customary in business today.
More often than not, though, all that we "accomplish" is delayed projects, mass confusion, and missed opportunities--not the achievement of business goals. The Resource Management and Capacity Planning Handbook helps you tackle the critical challenges of resource management and capacity planning head on by providing a proven tool for making the leap from chaos tocontrol: the Capacity Quadrant, a framework for addressing visibility, prioritization, optimization of existing resources, and integrated planning and governance. The Resource Management and Capacity Planning Handbook demystifies the complexities of resource capacity and demand management and offers clear ways for maximizing your limited resources to drive business growth and sustainability. This groundbreaking guide includes:The latest benchmark data from a comprehensive study of resource managementCase studies from organizations that haveused the book's methods with great successTools for overcoming common barriers and making decisions involving time capture, resource assignments, and competing prioritiesRecommendations on ownership of the organization'sresource management and capacity planning functionsConsiderations for addressing the human side of resource management and capacity planningThe Resource Management and Capacity Planning Handbook gives you the information, insight, and proven methods to take your company where it has never been before. PRAISE FOR THE RESOURCE MANAGEMENT AND CAPACITY PLANNING HANDBOOK"There are lots of leadership books, scores of human resources books, and plenty of project and portfolio management books.
This is the first book dedicated to what is essentially the drivetrain of organizations--the effective use of its people toward its most important activities.
This is Manas's best and most ambitious book yet." -- Judith E.
Glaser, CEO, Benchmark Communications, Inc.; Chairman of The Creating WE Institute; and author of the bestselling Conversational Intelligence"Jerry's book and the Capacity Quadrant model he outlines give you a realistic view of your workforce and an approach to maximizing the 'people power' in your organization that's easy to understand and apply.
It could very well help transform your company and make you a hero in the process!" -- Dave Garrett, President and CEO, ProjectManagement.com"Unlike lifeless products, people skills and capacity are difficult to measure and vary widely between 'good' days and 'bad' days.
Manas steps nimbly through this minefield with solid evidence and practical advice--all laced together in an easy-to-read style." -- R.
Max Wideman FCSCE, FEIC, FICE, FPMI"It didn't take me too long into reading when I realized how much we really needed this book.
I wish we had it when we started implementing Resource Capacity Planning and Investment Planning.
I will make sure all of my staff members have copies." -- Gary Merrifield, PMP, Manager, IT Project Delivery and Quality Assurance, Blue Cross Blue Shield of Louisiana"A great guide to the most important topic in management: how to maximize your limited people resources." -- Hans Heuschkel, Senior Business Intelligence Analyst/Project Manager, Swiss insurance company
Free Home Delivery
on all orders
Pick up orders
from local bookshops