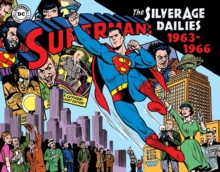 Superman The Silver Age Newspaper Dailies Volume 3 1963-1966
Hardback
Description
The third volume of the Superman Silver Age daily newspaper stripspresents the never-before reprinted stories from November 1963 through theseries' conclusion in April 1966.
Wayne Boring provides the classic artwork, andonce again, Superman co-creator Jerry Siegel scripts adaptations of stories thatfirst appeared in comic books.
Siegel and Boring offer alternate versions of nowclassic stories originally written by Siegel himself, Leo Dorfman, Otto Binder,Robert Bernstein, Edmund Hamilton - and drawn in comic books by Curt Swan,Al Plastino, Kurt Schaffenberger, and Pete Costanza.
Stories include "LexLuthor, Daily Planet Editor," "Superman's Sacrifice,""The "Man Who Stole Superman's Secret Life," "LoisLane's Love Trap," "Clark Kent in the Big House," and"The Goofy Superman," among others. More than 750 daily strips - over two years worth of stories -from Earth-N (for Newspapers) that comic book fans have not previously seen. Edited and designed by Dean Mullaney, Introduction by Sid Friedfertig, and coverdrawing by Pete Poplaski.
Information
Format: Hardback
Pages: 288 pages
Publisher: Idea & Design Works
Publication Date: 23/12/2014
Category: Superheroes
ISBN: 9781631401794
Free Home Delivery
on all orders
Pick up orders
from local bookshops