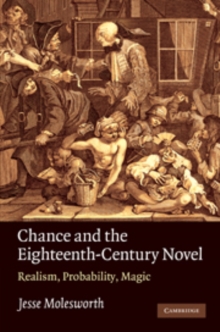 Chance and the Eighteenth-Century Novel : Realism, Probability, Magic
Hardback
Description
The rise and popular awareness of the science of probability in the eighteenth century was accompanied by an equally great interest in the anti-probable: lotteries, tarot readings, and gambling.
In this study, Jesse Molesworth analyses the relationship between realism, probability and chance in eighteenth-century fiction.
In a variety of readings, both literary and cultural, he investigates works by Daniel Defoe, Henry Fielding and Laurence Sterne, in the context of the rise of lottery addiction, Hoyle's whist, and tarot cartomancy.
Both a reassessment of the early development of the novel and a contribution to recent work on realism and fiction, this book suggests connections between narrative and mathematics that reveal a darker, more transgressive, side to the novel.
Rather than a rational expression of Enlightenment truths, the novel reaches out to older, more superstitious views as it tries to combine the attractions of chance with the consolations of reason.
Free Home Delivery
on all orders
Pick up orders
from local bookshops