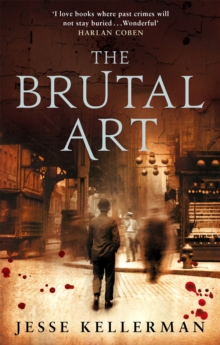 Description
Ethan Muller is struggling to establish his reputation as a dealer in the cut-throat world of contemporary art when he is alerted to a once-in-a-lifetime opportunity: in a decaying New York slum, an elderly tenant has disappeared, leaving behind a staggeringly large trove of original drawings and paintings. Nobody can tell Ethan much about the old man, except that he came and went in solitude for nearly forty years, his genius hidden and unacknowledged.
Despite the fact that, strictly speaking, the artwork doesn't belong to him, Ethan takes the challenge and makes a name for the old man - and himself.
Soon Ethan has to congratulate himself on his own genius: for storytelling and salesmanship. But suddenly the police are interested in talking to him. It seems that the missing artist had a nasty past, and the drawings hanging in the Muller Gallery have begun to look a lot less like art and a lot more like evidence.
Sucked into an investigation four decades cold, Ethan will uncover a secret legacy of shame and death, one that will touch horrifyingly close to home - and leave him fearing for his own life.
Information
Format: Paperback
Pages: 416 pages
Publisher: Little, Brown Book Group
Publication Date: 29/12/2008
Category: Crime & mystery
ISBN: 9780751540284
Free Home Delivery
on all orders
Pick up orders
from local bookshops
Reviews
Showing 1 - 5 of 7 reviews.
Previous | Next
Review by bookmart
16/06/2015
The Library thing suggester said I'd love this book but the certainty was very low??? Anyway, it wasn't really my style. Following a long build up it finished fairly abruptly in an unforefilling way. Having said that I'm sure readers how enjoy detective type stories would enjoy. Don't let me put you off as I was intrigued as to what was going to happen next.
Review by DubaiReader
16/06/2015
The art was the highlight of this book.There was nothing outstanding about this mystery, what really made it for me, and earned its 4 stars, were the wonderful descriptions of the rather macabre, gothic art around which the story is built.The art was seemingly abandonded in a seedy flat in a rough area of New York. There was no sign of the artist. Who was he? Could he have been responsible for a number of child murders committed fourty years previously?The gallery owner who acquires and exhibits the art gradually becomes sucked into the search for answers to these questions and the truth is not always easy.3 out of 5 for the twist at the end.
Review by cathymoore
16/06/2015
An average mystey centred around a wealthy art gallery owner, Ethan Muller, in NYC. Muller gets caught up in the mystery surrounding a disappeared artist, Victor Crabbe, when he begins displaying his drawings in his gallery. This is a story with an interesting premise, unfortunately it is particularly wordy. I felt the story could have been covered in 100 or so less pages. The characters are not particular likeable and I felt little empathy for them. I also think that a book centred around the art world and specifically a set of drawings loses something in the description - a book about pictures with no illustrations? - I'm not convinced....
Review by edwardsgt
16/06/2015
Complex story spanning several generations of Jewish immigrants. In the contemporary story, art dealer Ethan Muller uncovers a huge collection of drawings, all interlinked. The story revolves around Ethan's hunt for the artist and the story behind his creation. Well detailed and observed, but didn't quite manage to hold my attention and I took a couple of weeks or so to finish reading it, a sure sign that I'm not fully engaged!
Review by cowleyeleanor
16/06/2015
'The Brutal Art' begins with Ethan Muller, a rather selfish and egotistical young art dealer, discovering a stash of drawings by a mysterious and reclusive tenant of a building owned by his estranged father. The artist, whose whereabouts are unknown, is a curious and disturbing character, reminiscent of Henry Darger. The rest of the novel deals with the consequences of this find, interspersed with episodes in the lives of Ethan's ancestors.This book was very readable, gripping me from the start. Ethan is a lively and honest narrator, telling the story with wit and humour (sending up thriller conventions in the process). Although exciting 'The Brutal Art' is also subtle and as a whole it a moving and thoughtful work, with all the different threads cleverly coming together.It is a shame that the misleading blurb paints this book as more of a straight thriller, and I can imagine that some people might therefore be disappointed at not having their expectations of the genre met.