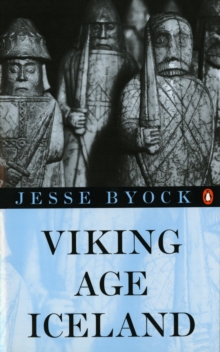 Viking Age Iceland
Paperback
Description
Medieval Iceland was unique amongst Western Europe, with no foreign policy, no defence forces, no king, no lords, no peasants and few battles.
It should have been a utopia yet its literature is dominated by brutality and killing.
The reasons for this, argues Jesse Byock, lie in the underlying structures and cultural codes of the islands' social order. 'Viking Age Iceland' is an engaging, multi-disciplinary work bringing together findings in anthropology and ethnography interwoven with historical fact and masterful insights into the popular Icelandic sagas, this is a brilliant reconstruction of the inner workings of a unique and intriguing society.
Information
Format: Paperback
Pages: 480 pages
Publisher: Penguin Books Ltd
Publication Date: 22/02/2001
Category: European history
ISBN: 9780140291155
Free Home Delivery
on all orders
Pick up orders
from local bookshops
Reviews
Showing 1 - 3 of 3 reviews.
Review by eyja
16/06/2015
This is a great overview of Iceland in the viking age. I absolutely love it. Highly recommended to anyone who wants to learn about Iceland and the culture in the sagas.
Review by Sollos
16/06/2015
I had read a book previous to this entitled Northern Sphinx. Combined with knowledge from that book and my own basic research through Wikipedia, I pretty much knew of everything in this book.If you are going to get one book, or at least basic book, then this should be it. It's well published so you should have no troubles finding a (cheap) copy, and I did find it more informative than my previous readings. However, as I know few little things of history, and merely look at the big picture, this book told me nothing new. If you are unlike that though, and even if you've read other materials, you should be good.
Review by isabelx
16/06/2015
If you are interested in the Icelandic sagas, this is a great book to read for background information about the society that produced them. Although the characters in the sagas may seem get involved in a lot of feuds with their neighbours, Icelanders believed in using arbitration, compromise and monetary compensation to solve disputes rather than violence and blood feuds. There were no towns in Iceland and the scattered population lived on farms around the coast and in a few fertile valleys inland. The land grew less fertile over the first few centuries due to overgrazing and deforestation, and it was susceptible to 'bad year' economics, i.e. there was no margin for error and they could get by only as long as nothing went wrong. This meant that even the most powerful men couldn't afford to keep large numbers of followers, as the farms would only support a certain number of people, which is the main reason why slavery died out in Iceland by early in the eleventh century.Chieftains did not have rights over the farmers in a particular geographical area, who were free to choose whose thingman they would be and could change allegiance to another chieftain if they felt their interests would be better served by him. A chieftain gained and influence and land by acting as an advocate in disputes, either representing one side at the courts held at the things, or negotiating an out-of-court settlement before it got that far. Other chieftains acted as 'men of goodwill' to intervene in legal disputes or feuds, and when they turned up with a large band of followers it wasn't in order to use force, it was rather a sign that many people thought the dispute had gone far enough and that it was time for the two sides to reach a compromise.A fascinating book about the Icelandic 'free state' from the arrival of the settlers in about 870 A.D. until the Norwegians took control in the mid-thirteenth century. There are lots of maps and other illustrations and it includes information the spring and autumn things, the system of courts, the difference between murder and manslaughter, trade with Norway and other foreign countries, the conversion to Christianity and the influence of the Church, marriage, divorce and dowries, the construction of turf houses and why inside latrines were a good idea, all liberally illustrated with examples from the sagas.