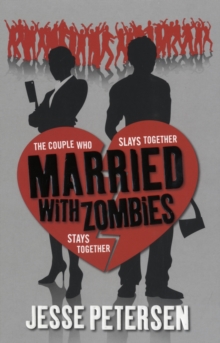 Married with Zombies
Paperback
Description
Meet Sarah and David. Sarah and David are like any other couple. They met, they fell in love, but now they're on the verge of divorce.
On a routine trip to the marriage counsellor, they notice a few odd things -- the lack of cars on the road, the missing security guard, and the fact that their counsellor, Dr Kelly, is ripping out her previous client's throat.
Meet the zombies.Now, Sarah and David are fighting for survival in the middle of the zombie apocalypse.
But just because there are zombies, it doesn't mean your other problems go away. And if the zombies don't eat their brains, they might just kill each other.
Information
Format: Paperback
Pages: 272 pages
Publisher: Simon & Schuster Ltd
Publication Date: 01/02/2011
ISBN: 9781849832977
Free Home Delivery
on all orders
Pick up orders
from local bookshops
Reviews
Showing 1 - 1 of 1 reviews.
Review by elbakerone
16/06/2015
Seattle couple Sarah and David finally admit that their marriage is on the rocks, and counseling seems to be the option to save their rocky relationship. However, when their therapist tries to eat them, they realize that keeping each other alive in the midst of a zombie apocalypse might be the common goal they needed to rekindle their love for each other. <i>Married with Zombies</i> by Jesse Petersen was a great book that took a humorous spin in blending zombie horror into a story about a young couple trying to make their marriage succeed. A straight up zombie story or relationship novel would have been easy to pass by, but in combining the two - and poking fun and the stereotypes in each - Petersen weaves a unique and amusing tale. David and Sarah were well-drawn characters and came across as very real people. They're an everyday man and wife armed with knowledge from a heap of Hollywood slasher films that happen to do an above average job at battling the undead. One of my favorite parts of this novel was the chapter headings. Each one combined cliche relationship adages with tips for surviving zombie attacks. A few examples were, "Balance the workload in your relationship. No one person should be responsible for killing all the zombies," and "Put the small stuff into perspective. It's better to be wrong and alive than right but eating brains." This offbeat humor might not appeal to everyone, but for those that are amused, Married with Zombies is definitely a fun book to read!