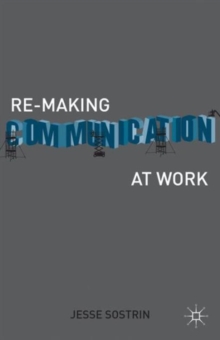 Re-Making Communication at Work
Hardback
Description
Almost 400 years ago philosophers John Locke and David Hume implicitly defined communication as a tool for the transmission of pure ideas, stating that the ideas themselves are what matter, not the way in which they are expressed and exchanged.
Now known as the transmission model, this form of communication is still the foundation for academic courses in communication theory and practice, and is embedded in most business literature and education that address subjects related to workplace communication, organization behavior and culture, leadership, and conflict resolution.
But what if this accepted model of communication was incomplete?
Re-Making Communication at Work argues that the transmission model of communication needs to be replaced by a new approach to communication.
Sostrin challenges the status quo by exposing the most common myths that inaccurately define successful communication at work.
These misperceptions are replaced by a set of core principles that deliver a clear mandate for re-making communication at work.
Sostrin not only provides the theoretical foundation for this new approach, but he uses a straightforward model and exercises that demonstrate how managers, students, and consultants can powerfully improve relationships, decision-making, and collaboration with a few lines and circles.
Information
Format: Hardback
Pages: 269 pages, XIX, 269 p.
Publisher: Palgrave Macmillan
Publication Date: 07/11/2013
Category: Business innovation
ISBN: 9781137337061