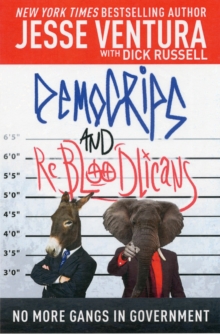 DemoCRIPS and ReBLOODlicans : No More Gangs in Government
Hardback
Description
"Democrips and Rebloodlicans" uncovers the truth about how corporations have bought the American electoral and legislative process through the power of lobbyists, campaign contributions and political action committees.
Covering historical details such as the development of the two-party system and the advent of third-party candidates throughout US history, "Democrips and Rebloodlicans" exposes how the two-major parties, acting like a gang-land cabal, have allowed corporations, businesses and politically-motivated wealthy individuals to manipulate elections, bribe elected officials and, in short, silence the average American voter.
Exposing the ineptitude of both parties at insuring the integrity and vitality of American democracy, Jesse Ventura advocates the replacement of the two-party system for a no party system based on the ideals of our Founding Fathers.
Information
Format: Hardback
Pages: 320 pages
Publisher: Skyhorse Publishing
Publication Date: 28/06/2012
Category: Political structure & processes
ISBN: 9781616084486
Other Formats
EPUB from £14.39
Paperback / softback from £9.55
Free Home Delivery
on all orders
Pick up orders
from local bookshops