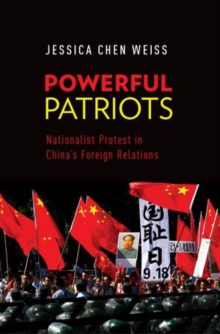 Powerful Patriots : Nationalist Protest in China's Foreign Relations
Paperback / softback
Description
Why has the Chinese government sometimes allowed and sometimes repressed nationalist, anti-foreign protests?
What have been the international consequences of these choices?
Anti-American demonstrations were permitted in 1999 but repressed in 2001 during two crises in US-China relations.
Anti-Japanese protests were tolerated in 1985, 2005, and 2012 but banned in 1990 and 1996.
Protests over Taiwan, the issue of greatest concern to Chinese nationalists, have never beenallowed.
To explain this variation in China's response to nationalist mobilization, Powerful Patriots argues that Chinese and other authoritarian leaders weigh both diplomatic and domestic incentives to allow and repress nationalist protests.
Autocrats may not face electoral constraints, butanti-foreign protests provide an alternative mechanism by which authoritarian leaders can reveal their vulnerability to public pressure. Because nationalist protests are costly to repress and may turn against the government, allowing protests demonstrates resolve and increases the domestic cost of diplomatic concessions.
Repressing protests, by contrast, sends a credible signal of reassurance, facilitating diplomatic flexibility and signaling a willingness to spend domestic political capitalfor the sake of international cooperation.
To illustrate the logic, the book traces the effect of domestic and diplomatic factors in China's management of nationalist protest in the post-Mao era (1978-2012) and the consequences for China's foreign relations.
Information
Format: Paperback / softback
Pages: 360 pages
Publisher: Oxford University Press Inc
Publication Date: 13/11/2014
Category: Nationalism
ISBN: 9780199387564
Free Home Delivery
on all orders
Pick up orders
from local bookshops