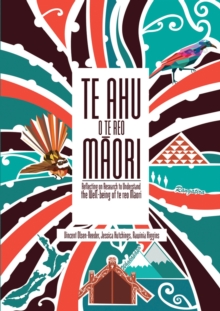 Te Ahu o te reo Maori : Understanding the well-being of te reo Maori in Aotearoa
Paperback / softback
Description
Te Ahu o te reo Maori: Reflecting on Research to Understand the Well-being of te reo Maori is an edited collection of bi-lingual writings that brings together Maori researchers, writers and community language advocates who were involved in the Te Taura Whiri-funded study, Te Ahu o te reo.
Te Ahu o te reo Maori draws on this national research project completed in 2016, and brings together some of the different voices of the project in a way that will appeal to a wider audience.
The aim of the book is to provide a space, beyond the funded research project, to reflect on the role of kaupapa Maori research and the researcher in Maori language research.
Writers explore the concept of well-being in relation to te reo Maori and share evidence-based information about what supports and hinders the revitalisation of te reo Maori in communities, homes, kura and schools in Aotearoa in the 21st century. Contributors include: Vini Olsen-Reeder, Professor Rawinia Higgins, Dr Jessica Hutchings, Dr Jen Martin, Stephanie Fong, Associate Professor Jenny Bol Jun Lee-Morgan, Eruera Lee-Morgan, Waitiahoaho Emery.
Information
Format: Paperback / softback
Pages: 160 pages
Publisher: Victoria University Press
Publication Date: 14/12/2017
Category: Australasian & Pacific history
ISBN: 9781776561742
Also by Jessica Hutchings