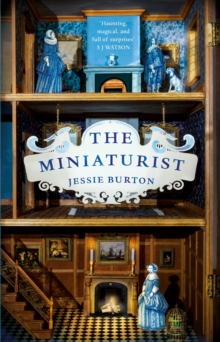 Description
Over one million copies soldThe phenomenal Number One BestsellerWinner of the Specsavers National Book Award 2014Waterstones Book of the Year 2014Selected for the Richard & Judy Book Club 2015There is nothing hidden that will not be revealed . . . On an autumn day in 1686, eighteen-year-old Nella Oortman knocks at the door of a grand house in the wealthiest quarter of Amsterdam.
She has come from the country to begin a new life as the wife of illustrious merchant trader Johannes Brandt, but instead she is met by his sharp-tongued sister, Marin.
Only later does Johannes appear and present her with an extraordinary wedding gift: a cabinet-sized replica of their home.
It is to be furnished by an elusive miniaturist, whose tiny creations mirror their real-life counterparts in unexpected ways . . . Nella is at first mystified by the closed world of the Brandt household, but as she uncovers its secrets she realizes the escalating dangers that await them all.
Does the miniaturist hold their fate in her hands? And will she be the key to their salvation or the architect of their downfall?
Beautiful, intoxicating and filled with heart-pounding suspense, Jessie Burton's magnificent debut novel The Miniaturist is a story of love and obsession, betrayal and retribution, appearance and truth.
Information
Format: Hardback
Pages: 400 pages
Publisher: Pan Macmillan
Publication Date: 03/07/2014
ISBN: 9781447250890
Other Formats
Paperback from £6.55
EPUB from £5.59
Free Home Delivery
on all orders
Pick up orders
from local bookshops
Reviews
Showing 1 - 3 of 3 reviews.
Review by Eyejaybee
16/06/2015
This is an atmospheric and intriguing, though to my mind ultimately dissatisfying novel, set in the austere society of late seventeenth century Amsterdam which is governed by the harshly orthodox Protestant Republic. Eighteen year old Petronella ("Nella") Oortman has lived in Alkmaar in a family that commands respect locally, but which, following the recent death of her financially imprudent father, is brutally impoverished. She is, therefore, married off to middle aged and taciturn merchant, Johannes Brandt, in a hastily arranged wedding. Brandt is immensely industrious and has to depart on a new expedition before he can bring his young wife back to Amsterdam. As the novel opens she is making that journey alone.Upon arrival at the Brandt home she is met by the indomitable Marin, Brandt's sister and housekeeper, who offers only the most grudging of welcomes to her new sister-in-law. The rest of the household consisted of Cornelia, the sassy maid, and Otto, a liberated former slave, who performs a range of duties within the home. When Brandt finally returns he remains curiously distant from Nella. He also seems to be at odds with almost all of his fellow merchants, and the household seems curiously removed from the general drift of Amsterdam life. He does, however, present Nella with an impressive wedding present - a cabinet formed in the shape of a miniature replica of their house. During one of her periods of loneliness in the house Nella comes across an advertisement in the local journal posted by a miniaturist. As she gradually becomes more confident in her new surroundings she decides to write to the miniaturist, telling her about her cabinet and commissioning some items with which to furnish it. This decision sparks off the central actions of the novel, and a aseries of cataclysmic events and revelations ensue.The descriptions of seventeenth century Amsterdam are marvellous (at least, I found them very enjoyable though I have no yardstick at all with which to judge their accuracy), and Burton captures the fell of an oppressive society. The writing is sound and the plot develops very satisfyingly, too, for the first two-thirds of the book, though once we reach the crucial stage, the cohesion slips away. There are just too many loose ends (not least the role and purpose of the miniaturist!), which made me wonder if the book had been truncated as a consequence of impending deadline issues, or whether Ms Burton has decided to write a sequel, and wanted to hold back some useful material.
Review by nicx27
16/06/2015
Nella Oortman arrives at the house of her new husband, Johannes, who she has met only once on the day of their marriage. Johannes is not waiting for her on that day, but his prickly sister, Marin, and their servants, Cornelia and Otto are there. Nella finds that her marriage is not what she hoped for when Johannes is distant but he buys her a cabinet house, a miniature of their own house which Nella then starts to furnish with the help of a miniaturist. Strangely, the miniaturist seems to be able to predict what will happen in the house and things start to go very wrong.I loved this book and felt it was one where I wanted to savour every single word. It has a similar feel to Tracy Chevalier's Girl with a Pearl Earring in writing style and is set in a similar place and time. I liked Nella very much and loved how she grows in confidence as the story progresses. And the other characters all grew on me as I got to know their stories. I also found the idea of the miniaturist really intriguing. Towards the very end I felt quite emotional about the turn of events.Jessie Burton has written an excellent debut here and I can understand why people rave about it. I know it's also had some poor reviews but I think that's because it's a book which needs to be read fairly slowly to take it all in. I loved it, anyway, and look forward with interest to seeing what this author does next.
Review by devenish
16/06/2015
This is a perfectly acceptable story of life in the Amsterdam of 1686. I am however at a loss to understand what all the fuss is about. A girl aged eighteen arrives at the house of a rich merchant as his wife. The husband seems reluctant to have much to do with her and does not consummate the marriage. Why ? well that seems fairly obvious doesn't it.He buys her a cabinet to house miniature furniture ect.. The girl contacts a mysterious craftsman who sends her various pieces of small furniture and figures,but will not meet her. The mystery of why all this happens is not satisfactorily explained. Nevertheless an intriguing read.