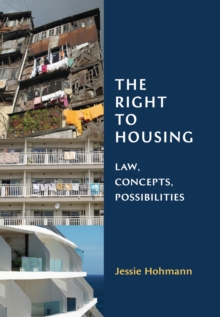 The Right to Housing : Law, Concepts, Possibilities
Hardback
Description
A human right to housing represents the law's most direct and overt protection of housing and home.
Unlike other human rights, through which the home incidentally receives protection and attention, the right to housing raises housing itself to the position of primary importance.
However, the meaning, content, scope and even existence of a right to housing raise vexed questions. Drawing on insights from disciplines including law, anthropology, political theory, philosophy and geography, this book is both a contribution to the state of knowledge on the right to housing, and an entry into the broader human rights debate.
It addresses profound questions on the role of human rights in belonging and citizenship, the formation of identity, the perpetuation of forms of social organisation and, ultimately, of the relationship between the individual and the state.
The book addresses the legal, theoretical and conceptual issues, providing a deep analysis of the right to housing within and beyond human rights law. Structured in three parts, the book outlines the right to housing in international law and in key national legal systems; examines the most important concepts of housing: space, privacy and identity and, finally, looks at the potential of the right to alleviate human misery, marginalisation and deprivation. The book represents a major contribution to the scholarship on an under-studied and ill-defined right. In terms of content, it provides a much needed exploration of the right to housing.
In approach it offers a new framework for argument within which the right to housing, as well as other under-theorised and contested rights, can be reconsidered, reconnecting human rights with the social conditions of their violation, and hence with the reasons for their existence. Shortlisted for The Peter Birks Prize for Outstanding Legal Scholarship 2013.
Free Home Delivery
on all orders
Pick up orders
from local bookshops