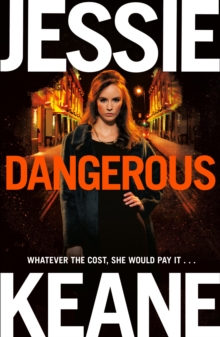 Description
Dangerous by Jessie Keane is a deadly story of London's criminal underworld, from the bestselling author of Nameless. Whatever the cost, she would pay it ...Coronation year: 1953.
Fifteen-year-old Clara Dolan's world is turned upside down following the shock death of her mother.
Battling to keep what remains of her family together, Clara vows to keep her younger siblings, Bernadette and Henry, safe whatever the cost.
With the arrival of the swinging sixties, Clara finds herself swept up in London's dark underworld where the glamour of Soho's dazzling nightclubs sit in stark contrast to the terrifying gangland violence that threatens the new life she has worked so hard to build. Sinking further into an existence defined by murder and betrayal, Clara soon realises that success often comes at a very high price ...
Information
Format: Hardback
Pages: 480 pages
Publisher: Pan Macmillan
Publication Date: 12/02/2015
ISBN: 9781447254263
Other Formats
Paperback from £7.09
EPUB from £4.31
Free Home Delivery
on all orders
Pick up orders
from local bookshops
Reviews
Showing 1 - 1 of 1 reviews.
Review by atticusfinch1048
27/08/2015
Dangerous – A Thrilling trawl of SohoNever having read anything by Jessie Keane I approached Dangerous with some trepidation as the cover blurb says she is fans of the great Martina Cole, one hell of a reputation to live up too. Having read the book I now regret not finding her sooner, her writing is addictive reading Dangerous is like being grabbed by the throat and not being released until the end or the Epilogue in this books case. This book maybe set around the sleazy criminal underworld of Soho in the 50s and 60s but there is something special about this London Crime Thriller and you can feel the Soho of old a Soho that has almost dead today.Clara Dolan is a fifteen year old who has seen too much for her short time on earth having to move from a golden world to the slums of London and her father has done a bunk left her mother pregnant. She is at her mother's side when she dies in that slum flat with the world closing in on her and her little sister Bernie and brother Henry. She knows she would have to step up to the plate and take care of them all to keep them together and out of the care system. She swore she would do whatever it takes to protect her siblings and keep the family together, even if it does mean marrying Frank Hatton.As she gets older she gets colder towards people and does not like the idea of ever being poor again, even when her sister decides to volunteer in the slums. As Frank dies and she moves on to her next husband she is clearly marrying for the money not the love, as Clara's heart is closed to love all she wants to do is protect her family whatever the cost.While you root for Clara she is not without faults and those faults will bring her face to face with danger throughout the book. She tries to protect Bernie as the vulnerable one and abandons Henry the violent one. She looks at the world in a very black and white way where there are no grey areas and as she makes her way in the seedy world of 60s Soho her enemies become stronger and will she be able to survive.There are so many believable characters in this book that it would be easy to name check them but at the same time it would be giving away to much of the plot and the challenges they will put in the way of Clara. The one character that does help her marries her Marcus Redmayne and will this be a marriage made for money and clubs or will love actually make an appearance.The closer you get to the end of the book the more the pace is picked up and the more twists and turns that appear and you just have to keep reading to find out how it all ends. Dangerous shows Jessie Keane to be at the top of her game and very comfortable writing about the London that seems so distant. Jessie Keane is a strong female writer who knows her subject well and it writes with a passion that just draws you in, that will leave you breathless and sorry that you finished the book. This is a brilliant story which at the same time is gritty and powerful and just grabs you and leaves you wanting more.